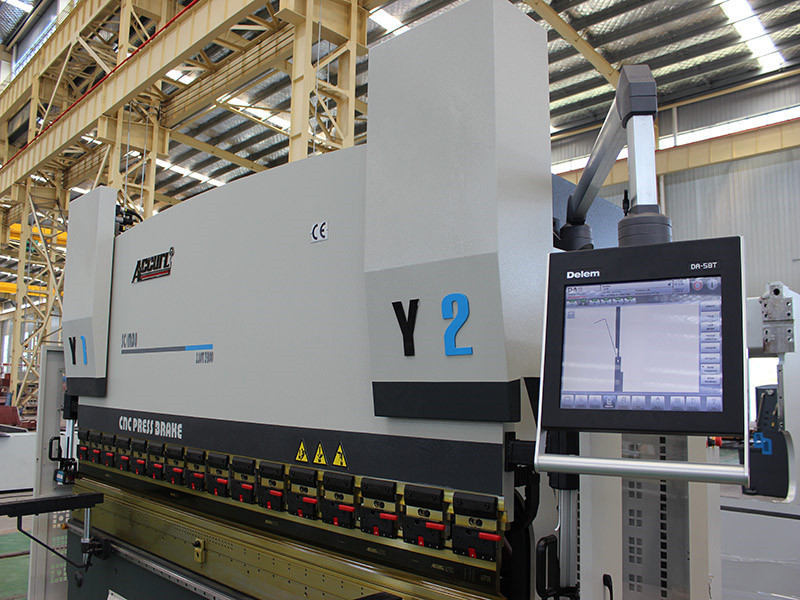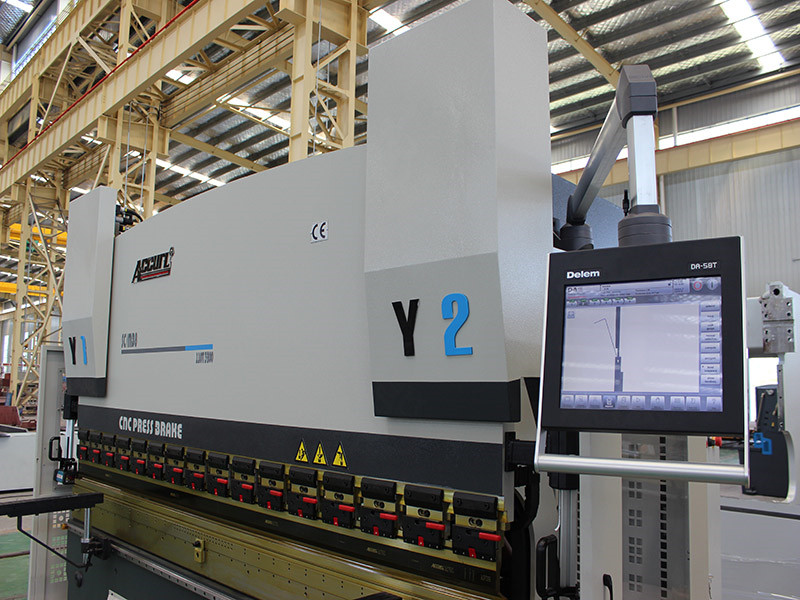 THE MAIN DISCRIPTION
---
ACCURL has been in machine industry field for about 10 years, we produce and sell all kinds of NC/CNC press brake, 3 or 4 roller rolling machine, high quality shearing machine including swing beam and various rank guillotine shears, hydraulic press, lathe machine, milling machine etc. All machines are under CE certification and experienced in the market of European such as United Kingdom, Belgium, Romania, Hungary, Croatia and also all the other countries in the world.
We produce about 40 sets of press brake machine monthly. In this large production volume, therefore enable us to be a price-effective in manufactory cost level. We consist in financial flexible principle to collaborate with our partner for a better recovery cost after their investment.
We also provide client-oriented after-sale service with engineer available if needed. In any cases, our action is in rapid response, immediately action in both consultation or site guidance.
The machine WC67Y (or in this paper) is torsion bar synchronization NC/CNC press brake, compact in structure ,easy in operation adjustment ,stable in usage and high precision synchronization.
THE MAIN CHARACTER
---
1. All machine body is welded assembly by high quality steels from CHINA BAO STEEL ENTERPRISE. After welding procedure, the machine body will be milled to ensure the balance and precision.
2. Mechanical block inside the cylinder to avoid the beam stroke out of gauge.
3. Balance adjustment for the two cylinder synchronization possible to keep the level position.
4. The machine has been adopt ESTUN E21 CNC system, the back-gauge can go to position accurately. The precision is ±0.1MM if frequency transformer is used.
5. All the electronic elements are from CE standard European machine SIMENS, SCHNEIDER. with high stability
6. European standard dies/punch design available. Normally we use standard four V design for all dies and standard punch capable for different plate thickness design with V changeable at three sides. For European clients, we can tailor-design the single v and shaft blade punch with nut clamp. All punch and dies are use high quality T8A with hardened squnch
7. Humanistic concern security design in all details and also the scientific details through SIECC standard.
8. Tailored working-table length and working speed for beam according to the client's production demand.
THE STANDARD COMPONENTS
---
1. ESUNTUN E21 CNC SYSTEM
2. SIEMENS OR SCHNEIDER ELECTRONIC ELEMENTS
3. USA PARKER SEAL
4. GERMANY REXORTH HYDRAULIC SYSTEM
5. CHINA YONGSHUN HIGH QUALITY GEAR PUMP
6. SIEMENS MOTOR or CHINA FAR EAST Motor (Because of SIEMENS Motor made in China has long delivery period, if the special voltage , we will not use SIEMENS unless the client can accept the long delivery period for machine also. Mostly the normal voltage , the delivery is 30 days for motor. We also use a lot of Motor named CHINA FAR EAST, it's quality has been proved with several years working. )
7. CHINA JIANHU CYLINDER HAS CHROMATE TREATMETN
8. PUNCH AND DIES: T8A
9. SECTION PUNCH AND DIES AVAIALABE IF THE CLIENT NEEDS SMALL SLIP PUNCH BENDING
10. BACK-GAUGE: ALLOY HIGH QUALITY STANDARD
11. PIPES : ANTI-RUST PHOSPHORIZATION PIPES WITH BOTH INSIDE AND OUTSIDE ANTI-RUST TREATED
12. PIPE CONNECTOR: HIGH QUALITY CONNCTOR FROM SHANGHAI COMPANY WITH HIGH QUALTY SEAL INSIDE TO PREVEND THE LEAKAGE OF THE HYDRAULC OIL.
13. REAR DOOR WITH OPEN-DOOR POWER-OFF FUNCTION FOR SECURITY
14. BOTH ENTRANCE AND EXIST OF THE HYDRAULIC OIL TANK, FILTER IS EQUIPPED.
15. MECHANICAL PUNCH RELEASE CLAMP
OPTIONAL COMPONENTS
---
1. SECTION PUNCH AND DIES –PLEASE PROVIDE US THE DIMENSION IF NEEDED
2. THE FREQUENCY TRANSFORMER---THE PRICE USD
3. FAST RELEASED CLAMP---USD600/SET MACHINE
4. BALL SCREW BACKGAUGE FINGERS---USD250/SET MACHIN
 ESTUN E21 BRIFT INTRODUCTION
---
1. ESTUN E21 is a simple CNC control system designed to replace ESTUN E200 with lower price.
2. ESTUN is jointed company by HOLLAND DELEM AND CHINA ESTUN
3. ESTUN E21can control X axis working into position accurately
4. ESTUN E21 will work better accompany with FREQUENCY TRANSFORMER. FREQUENCY TRANSFORMER is not the standard components ,optional.
5. Can programme the software for future usage and has memory
6. Can set up different steps in one programme.
7. Timer can control the bending time
8. Control X/Y two axis
9. The operation manual is available
10. The install manual is available
hydraulic swing beam shearing machine
,
large press brake
,
mechanical shearing machine
,
press brake bending machine
,
small press brake machine