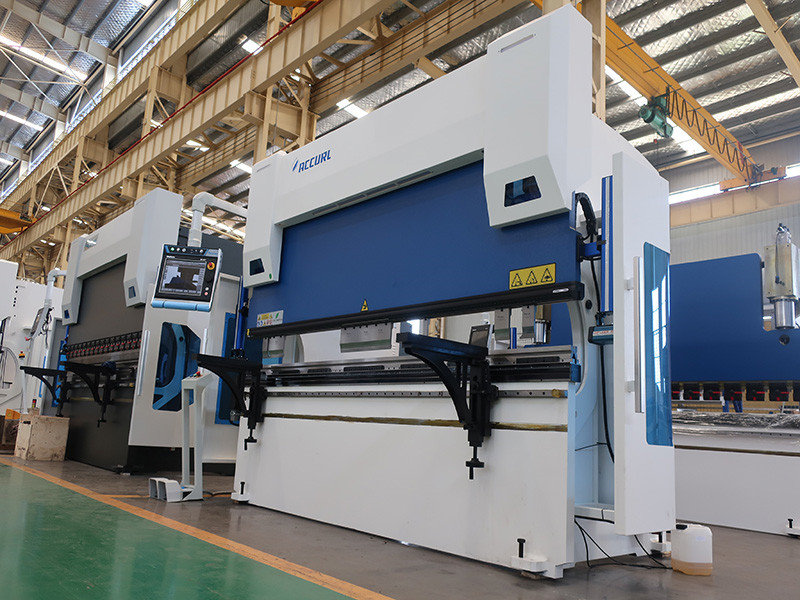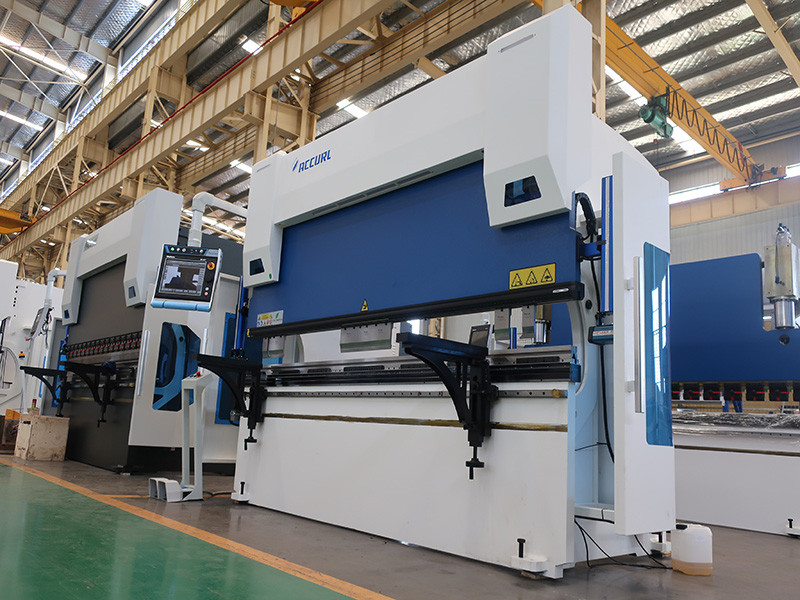 General features
---
--Energy saving, lower noise, accurate positioning;
--Adopt DELEM DA56 from Netherlands, 4 axies control;
--The finger-stops can be moved with linear guide;
--Backgauge is driven by digital AC servo motor, moved by precision ball screw, guided by linear guide.
--High productivity and good precision for metal sheets bending;
--Different tools working for multifarious pieces. Can make complex shapes by repetitious bending work;
--Mechanical stopper in oil cylinder, typical of high feedback precision for gliding block;
--Double hydraulic oil cylinder is applied for upper transmission, provided with mechanical limit stopper and synchronous torsion bar;
--With slowly falling fuction, the worker can control the machine easily;
--Conventional clamps for the punch with manual wedge adjustment;
--Realization of high precision, energy saving, environmental protection, high efficiency.
Technical parameter
---
Model

Nominal pressure

tons

Max.Bend width

mm

Distance between upright

mm

Throat depth

mm

Cylinder stroke

nn

Opening height

mm

Main power

kw

Dimension

mm

63T/2500

63

2500

2050

250

120

360

5.5

2750x1400x2180

63T/3200

63

3200

2600

250

120

360

5.5

3450x1400x2180

80T/2500

80

2500

2050

320

150

380

7.5

2750X1400X2350

80T/3200

80

3200

2600

320

150

380

7.5

3450X1400X2350

100T/2500

100

2500

2050

320

150

380

7.5

2750X1550X2480

100T/3200

100

3200

2600

320

150

380

7.5

3450X1550X2480

100T/4000

100

4000

3200

320

150

380

7.5

4250X1550X2600

125T/2500

125

2500

2050

320

150

380

7.5

2750X1550X2480

125T/3200

125

3200

2600

320

150

380

7.5

3450X1550X2480

125T/4000

125

4000

3200

320

150

380

7.5

4250X1550X2600

160T/2500

160

2500

2050

320

200

450

11

2750X1600X2650

160T/3200

160

3200

2600

320

200

450

11

3450X1600X2650

160T/4000

160

4000

3200

320

200

450

11

4250X1700X2650

200T/3200

200

3200

2600

330

220

510

15

3450X1850X2900

200T/4000

200

4000

3200

330

220

510 

15

4250X1900X3050

200T/5000

200

5000

4000

330

220

510

15

5000X1900X3160

200T/6000

200

6000

4700

330

220

510

15

6000X2100X3200

250T/3200

250

3200

2600

400

240

530

18.5

3450X2000X2900

250T/4000

250

4000

3200

400

240

530

18.5

4250X2000X3000

250T/5000

250

5000

4000

400

240

530

18.5

5000X2100X3400

250T/6000

250

6000

4700

400

240

530

18.5

6000X2100X3400

300T/3200

300

3200

2600

400

240

560

22

3450X2150X3300

300T/4000

300

4000

3200

400

240

560

22

4250X2280X3350

300T/6000

300

6000

4700

400

240

560

22

6000X2280X3560

400T/3200

400

3200

3200

400

250

600

30

3200X2280X3250

400T/4000

400

4000

3200

400

250

600

30

4000X2300X3600
Main imported parts
---
CNC system Holland DELEM DA52
Input / output modules Holland DELEM
Hydraulic system Germany BOSCH
Servo motor Holland DELEM
Linear scale Germany Heidenhai
Servo valves Germany BOSCH
Pressure valves Germany BOSCH
Linear guide Taiwan ABBA
Amplifiers Germany BOSCH
Ball screw Taiwan ABBA
Seals JAPAN NOK
Pump Germany BOSCH
Quick Details
---
Condition: New
Place of Origin: Anhui, China (Mainland)
Brand Name: ACCURL
Model Number: WE67K-100T-2500
Machine Type: Press Brake
Raw Material: Sheet / Plate Rolling
Material / Metal Processed: Aluminum
Power: Cnc
Automation: Automatic
Extra Services: End Forming
Certification: ISO 9001:2000
After-sales Service Provided: Engineers available to service machinery overseas
Bending force: 100TONS
Bending length: 2500mm
100 ton press brake
,
150 ton press brake
,
200 ton press brake
,
250 ton press brake
,
4 ft press brake
,
50 ton press brake
,
aluminum press brake
,
mechanical press brake