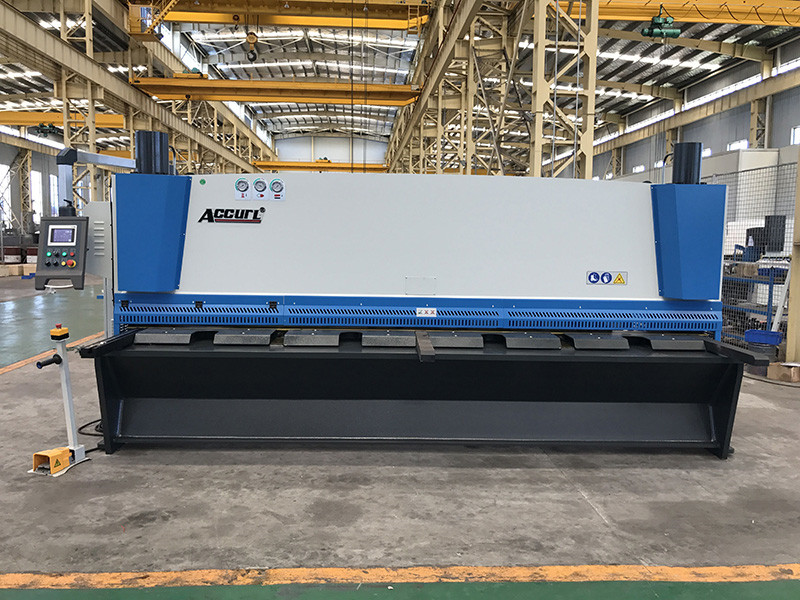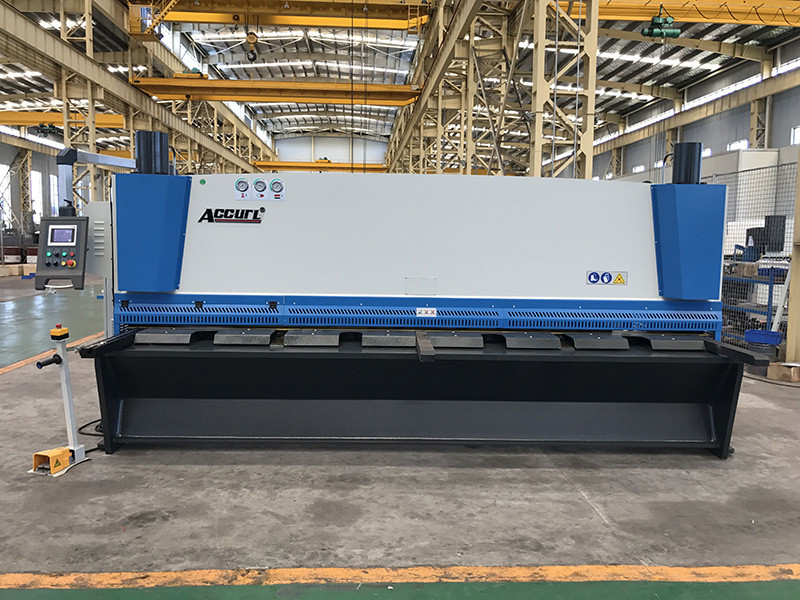 PRODUCTION DESCRIPTION
---
1. All steel welded structure, vibrating treatment of ageing for removal of internal stress, with good rigidity and stability, European design.
2. Guillotine beam design
3. Integration hydraulic transmission system, with good reliability.
4. Triple support rolling guide to eliminate gaps of support and enhance shearing quality.
5. Motorized back gauge with digital show
6. Manually blade clearance adjustment
7. Variable shearing angle to reduce the deformation of the shearing piece
8. Upper knife carrier with inward structure, it's facilitate to feed the material
9. Function of shearing in sections, function of aligning with light.
10. Counter controlling the number of shearing
11. Four cutting edges blade to prolong working life
12. Foot pedal with emergency stop
TECHNICAL PARAMETER
---
NO.
NAME
PARAMETER
UNIT
NOTE
1
Max.shearing Thickness
16
mm
2
Max shearing width
3200
mm
3
Strength of shearing sheet
ób≤450
Mpa
4
Shearing angle
1°-2.5°
5
Max length of back gauge
20-780
mm
6
Number of stroke
6-10
min-1
7
Blade length
3300
mm
8
Height of work table
900
mm
9
Main motor power
22
KW
OTHER MODEL OF SHEARING MACHINE
---
No
Model
Max cut thickness
mm
Max cut length
mm
Ram Stroke
n/min
Cutting angle
°
Motor
kW
Machine Size
mm
1
4x2500
4
2500
20-40
0.5-1.5
5.5
3100x1600x1700
2
4x3200
4
3200
20-40
0.5-1.5
7.5
3800x1800x1700
3
6x2500
6
2500
16-35
0.5-1.5
7.5
3150x1650x1700
4
6x3200
6
3200
14-35
0.5-1.5
7.5
3860x1810x1750
5
6x4000
6
4000
10-30
0.51.5
7.5
4630x2030x1940
6
6x5000
6
5000
10-30
0.5-1.5
11
5660x2050x1950
7
6x6000
6
6000
8-25
0.5-1.5
11
6680x2200x2500
8
8x2500
8
2500
14-30
0.5-1.5
11
3170x1700x1700
9
8x3200
8
3200
12-30
0.5-1.5
11
3870x1810x1780
10
8x4000
8
4000
10-25
0.5-1.5
11
4680x1900x1860
11
8x5000
8
5000
10-25
0.5-1.5
15
5680x2250x2200
12
8x6000
8
6000
8-20
0.5-1.5
15
6800x2350x2700
13
10x2500
10
2500
10-25
0.5-2.0
15
3270x1730x1800
14
10x3200
10
3200
9-25
0.5-2.0
15
3990x2250x2200
15
10x4000
10
4000
6-20
0.5-2.0
15
4720x2490x2500
16
10x5000
10
5000
7-20
0.5-2.0
22
5720x2600x2800
17
10x6000
10
6000
6-20
0.5-2.0
30
6720x2500x2550
18
12x2500
12
2500
10-25
0.5-2.0
15
3270x1730x1800
19
12x3200
12
3200
9-25
0.5-2.0
15
3990x2250x2200
20
12x4000
12
4000
6-20
0.5-2.0
15
4720x2490x2500
21
12x5000
12
5000
7-20
0.5-2.0
22
5720x2600x2800
22
12x6000
12
6000
6-20
0.5-2.0
30
6720x2500x2550
MAIN COMPONENTS
---
1. Main seal: Valqua CO. (Japan)
2. Main electric parts: Schneider (Germany)
3. Casting connector: Cast CO. (Italy)
4. Oil pump: Hongyuan (Shanghai)
5. Hydro-cylinder: Hengye (China)
6. Motor: Siemens (Germany)/Xinyu (China)
QUALITY WARRANTY & AFTER SERVICE
Guarantee Period:
One year for whole machine.
After Service:
The manufacturer support twice operating training, first one is at my factory during the processing time, second one at the buyer's factory during the re-installation/testing period. We will send our engineers go to buyer's factory help to re-install this machine if customer required, and the customer need to pay for their flight tickets( go and back), room and board, local travel cost
FAQ
---
How about your machine quality?We are worry about the quality.
ACCURL is a mature brand in CHINA, through our many years research in technology,our design including structure and detailed sercurity and precision has enhanced greatly,and can match all the CE standard or more strict standard.Our machines distribute worldwide to about 50 countries where there are metal plate industry, there are Kingwell. And where there are our machines,there are good reputation and terminal user satisfaction.
Whether the machine price can be more discount.
ACCURL always provide high quality machine,as we know ,oversea market is more important and difficult than domestic market because of communication time costing after sales,So always,our machine has enough quality standard to make sure the machine can work more than the real warranty period. In this way, we will save a lot and think in advance for the clients.
Actually Kingwell also think about our price level, we are sure to provide quality=price and price=quality ,the matched price and acceptable for the clients and durable for our machines.We welcome your negotiate with us and get a good satisfaction.
How about your factory in CHINA .
ACCURL located in MAANSHAN,ANHUIProvince who is the leading area in China and also in the worldwide as the center of the metal plate processing machines,We have worked about 20 years in this area and totally have about 100 staffs.Rich experience in this field with professional technical supporting and oriented service.
We welcome your visit to us any time.
Basic Info
---
Model NO.: QC11Y-16X3200
Layout: Horizontal
Automatic Grade: Semi-Automatic
Cutting Mode: Blade
Voltage: Customized
Color: Optional
Workpiece: Metal Sheet/Plate/Rod/Bar/Ribbon/Strip
Processing Object: Iron, Aluminum , Stainless Steel Plate, etc.
Trademark: ACCURL
Specification: CE
HS Code: 84623990
Customized: Customized
Cutting Material: Copper, Carbon Steel, Iron, Aluminum, Metal Alloy, Stainless Steel
Power Source: Hydraulic Pressure
Support OEM: Yes
Guarantee Period: 12 Months After Delivery
Machine Body: Welded Thick Steel Plate
Work Principle: Guillotine Cutting , Hydraulic Drive
Power: Electricity
Transport Package: Steel Pallet
Origin: Anhui, China
4 foot sheet metal shear
,
metal shearing machine
,
sheet metal guillotine
,
sheet metal shear