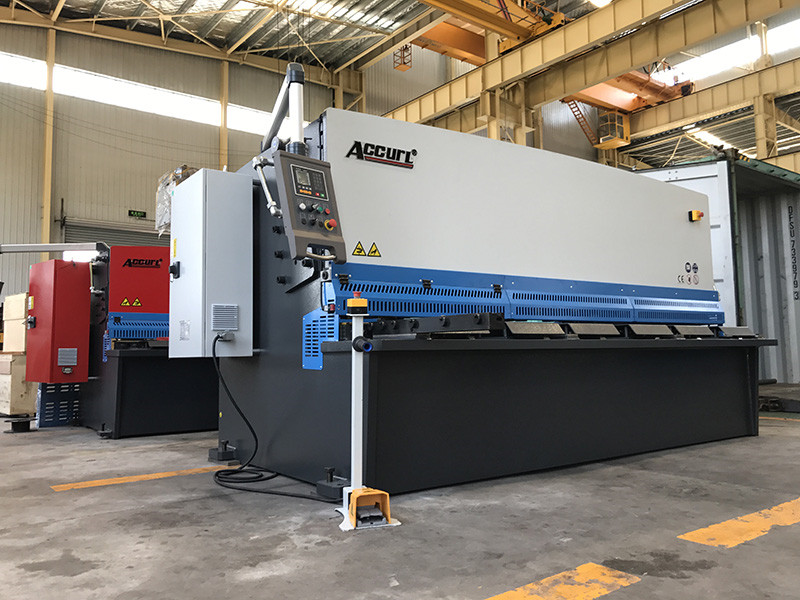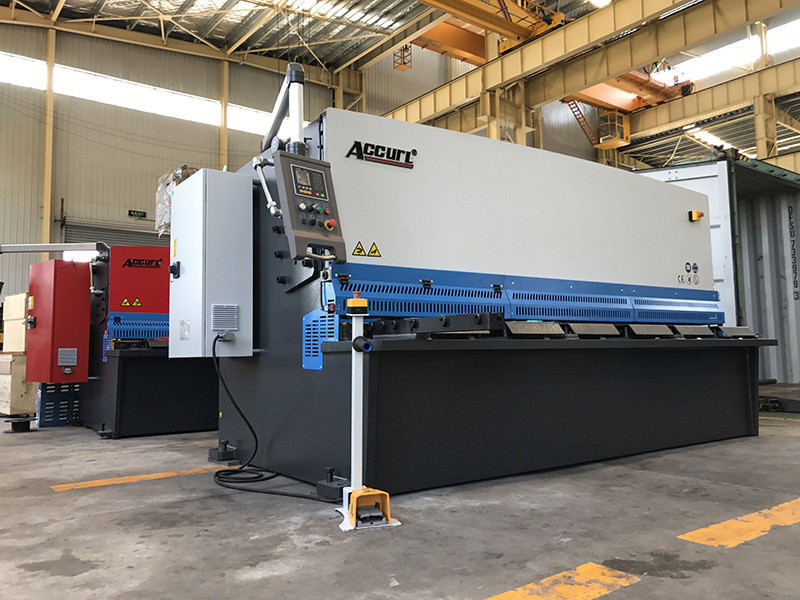 1.COMPANY INTRODUCTION:
---
1.More than 12 years experience for Hydraulic Press and 16 years for sheet metal machinery
2.Total Number of Employee: 455
3.Number of R & D Staff: 26
4.Floor Area: 56,765m2
5.New factory area: 61,321m2
6.Whole factory is controlled by ERP-Enterprise Resource Plan
We are producing below ranges of machines:
1.NC Press Brake
2.CNC Laser Cutter
3.CNC Punch Press
4.CNC Shears
5.Hydraulic Press
6.Pipe & Roller Bender
7.Iron Worker
8.Automatic Production line
ACCURL CNC Shesrs Characteristics
---
1.ACCURL Hydraulic Guillotine is a Heavy Duty Hydraulic Guillotine manufactured from an all steel welded mono-block construction to assure top quality of cut.
2.The Hydraulic Guillotine is a Swing Beam Action machine which is produced in a variety of cutting lengths and capacity options.
3.One off 1.0M Ruled Squaring Arm with tilting stop and two off 1.0M Front Support Arms, Bed infill plates with ball transfers.
4.Hand Moveable Foot Pedal control including emergency stop, Instructions and Maintenance Manuals.
5.High quality shear blades, Service Kit, Colours are light/dark grey and yellow.
6. The Motorized Backgauge is AC driven and complete with a digital read-out and a hand-wheel for fine adjustment.
The ACCURL Hydraulic Swing Beam Guillotine Model AC/QC12Y includes the following standard equipment
---
1.CE conformity including Tiltable Front Finger Guard and Optical Rear Safety Guard,
2.Rapid and precise blade clearance adjustment by single handle on the side frame
3.Fixed cutting angle, Cutting line illumination
4.Multi Edge Blades for cutting Aluminium, Mild Steel and Stainless Steel
5.Quick Blade Gap Adjustment
6.Motorised Backgauge with Automatic Swing-Up at stroke-end to allow longer sheets to be cut. The Backgauge is complete with a mechanical counter and hand wheel for fine adjustment
7.Squaring Arm and Front Support Arms
8.Cutting Line Illumination and wire for shadow line cutting
9.REXROTH/ HOERBIGER Hydraulic
10.Bed Infill Plates with Ball Transfers
10.TELEMECANIQUE/SCHNEIDER Electrics
11.Counter of Strokes, Cutting Length Adjustment
12.Side and rear safety guards and safety interlock switches
13.Compact, low-maintenance, hydraulic unit located at top rear of machine
14.3 year Labour and Parts Warranty
15.Commissioning and Training on Site included
16.Optional Equipment
17.Roller Rear Supporting Rack
18.Pneumatic Sheet Supporting System
19.Table Mounted Sheet Angle Cutting Gauge
20.CNC Control with input of Plate Thickness, Backgauge Position and Cutting Length
4 foot sheet metal shear
,
brake bender machine
,
hydraulic plate shearing machine
,
hydraulic swing beam shear
,
hydraulic swing beam shearing machine
,
mechanical shearing machine
,
metal shears
,
mini press brake
,
plate shearing machine
,
sheet metal guillotine