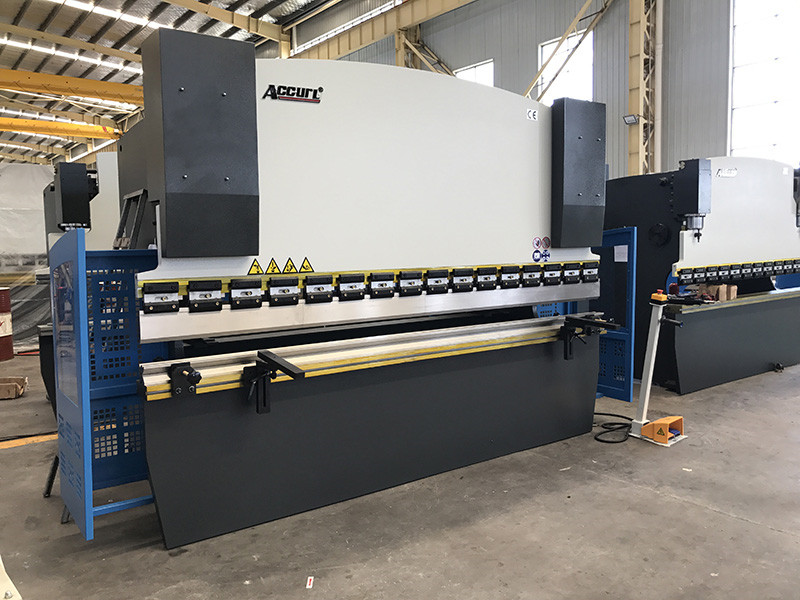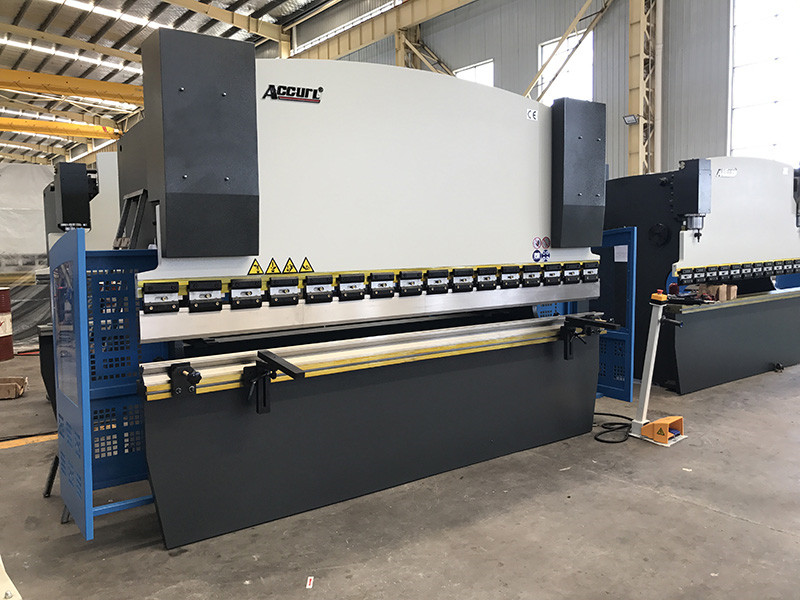 Features:
---
Hydraulic,Mechanical ram, synchronized positive stop design, ram stroke controlled by precision mechanical nut depth stops built into each cylinder.
Parallelism is ensured by torsion bar that can be easily adjusted by clutch system.
E-10 Programmable lead screw back gauge with adjustable height finger stops.
Segmented heavy duty offset top punch is segmented for return bend clearance, complete with quick release punch holder.
Multi vee ('V') bottom die is made from one solid die block design to handle heavy plate, safety edge vee ('V') is incorporated in bottom die block.
Conveniently mounted control box on pendant for quick swivel and adjustments.
Sliding steel fabricated sheet supports enabling a wide range of material sizes to be aligned and supported at the correct required height. This feature is achieved with a 'T' slot machined down the total length of the die bed; Sheet supports are also adjustable vertically to assist in supporting material with return bends already folded.
Adjustable sliding blocks control the machines beam to provide desirable open height distance to the (slow speed) mute bending point. Operator adjustable locking knobs for quick adjustment, enables accurate repeatability and increased productivity.
Metal safety guarding surrounding the machine and micro switch ensuring operator safety. Clear access panels placed at each end of machine allows the operator to clearly view tooling and work piece during bending operation.
Hydraulic pressure gauge mounted on support frame with quick adjusting pressure control knob allowing operator to accurately set the pressure required for different material thickness, incorporating with hydraulic overload protection.
Welded steel fabricated synchronized torsion bar horizontally supporting main bending beam to provide consistent parallelism that also can be adjusted for taper correction. The vertical supporting slides are treated to provide greater ware resistance and increased accuracy.
Standard Accessories
---
Swivel pendant control unit operation
Sliding front sheet support arms.
Emergency stop buttons conveniently located on control panel and foot control.
Mobile dual operation foot control.
Segmented offset top punch.
Solid one piece four way multi vee (''v") die block.
Quick action top punch tool holder system with wedge type adjustment.
Powered operated lead screw back gauge
Oil tank level indicator.
Metal constructed safety guarding surrounding machine with clear side viewing panels.
Integrated hydraulic system allowing rapid approach switching automatically to slow bend.
Optional:
---
CNC control system Estun E200
CNC control system Delem DA-41
CNC control system Delem DA-52
CNC control system Delem DA-56
CNC control system Delem DA-65W
Technical data:
---
Type

Nominal Force
Worktable Length
Poles Distance
Throat Depth
Stroke
Max. Open Height
Power
Dimension
(KN)
(mm)
(mm)
(mm)
(mm)
(mm)
(KW)
LxWxH (mm)
30T/1600
300
1600
1250
170
90
195
3
1600x920x1660
40T/2200
400
2200
1650
245
100
330
5.5
2260x1200x1950
40T/2500
400
2500
2150
245
100
330
5.5
2560x1200x1950
63T/2500
630
2500
2000
250
120
350
5.5
2560x1350x2120
63T/3200
630
3200
2580
250
120
360
5.5
3260x1350x2120
80T/2500
800
2500
2000
250
120
350
7.5
2560x1350x2120
80T/3200
800
3200
2580
250
120
350
7.5
3260x1350x2120
80T/4000
800
4000
2980
250
120
350
7.5
4060x1350x2250
100T/2500
1000
2500
2000
300
130
400
7.5
2560x1465x2300
100T/3200
1000
3200
2580
300
130
400
7.5
3260x1465x2300
125T/2500
1250
2500
2000
300
130
400
11
2560x1465x2350
125T/3200
1250
3200
2580
300
130
400
11
3260x1465x2350
160T/3200
1600
3200
2580
340
150
450
11
3260x1620x2700
160T/4000
1600
4000
2980
340
150
450
11
4060x1620x2700
200T/3200
2000
3200
2580
340
150
450
15
3260x1620x2700
200T/6000
2000
6000
5000
340
150
450
15
6060x1620x3000
250T/3200
2500
3200
2580
400
200
500
18.5
3260x1700x2900
250T/4000
2500
4000
2980
400
200
500
18.5
4060x1700x2900
250T/6000
2500
6000
5000
400
200
500
18.5
6060x1800x3200
300T/3200
3000
3200
2580
400
200
520
22
3260x2000x3000
300T/4000
3000
4000
2980
400
200
520
22
4060x2000x3000
350T/3200
3500
3200
2580
400
250
570
22
3260x2000x3000
400T/4000
4000
4000
2980
400
250
580
22
4060x2000x3100
Quick Details
---
Condition: New
Place of Origin: Anhui, China (Mainland)
Brand Name: ACCURL
Model Number: (WC67Y)
Machine Type: Press Brake
Raw Material: Sheet / Plate Rolling
Material / Metal Processed: Carbon Steel
Power: Hydraulic
Automation: Automatic
Extra Services: Machining
Certification: CE
After-sales Service Provided: Engineers available to service machinery overseas
Main Electric Elements: Schneider, French
Pump: Sumitomo, Japan
Valve: Atos, Italy
Seal: Nok, Japan
Motor: Siemens,Germany
Ball Screw and Linear Guide: Hiwin, Taiwan
Controller Options: Holland Delem/ Chinese Estun
Keywords: (WC67Y) Hydraulic
100 ton press brake
,
150 ton press brake
,
250 ton press brake
,
50 ton press brake
,
horizontal press brake
,
hydraulic press brake machine
,
mechanical press brake
,
press brake bending machine