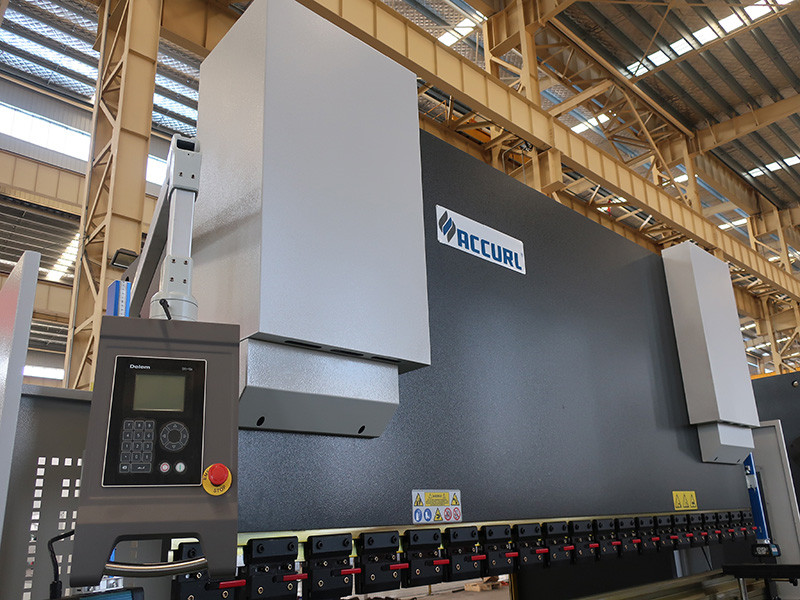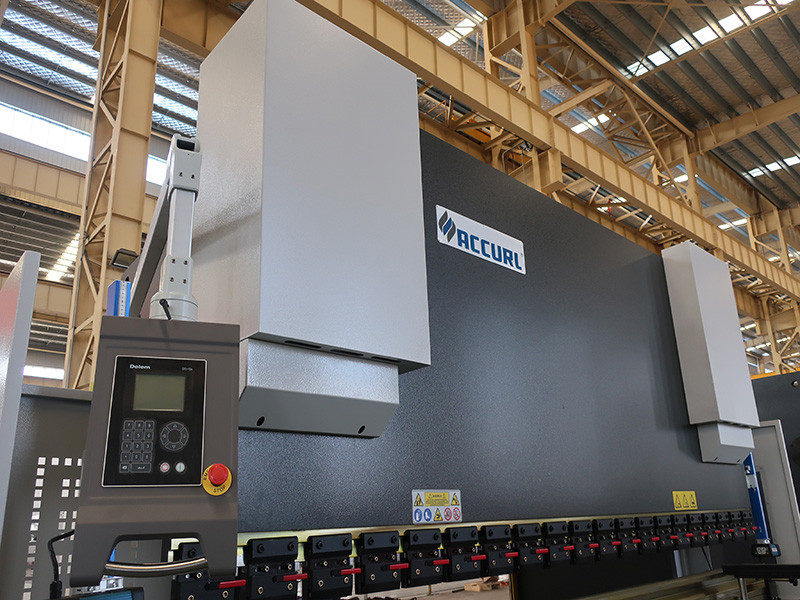 Features of CNC press brake
---
Whole welding steel plate, the stress is eliminated by the vibration after tempering with high stability.
The CNC press brake features a hydraulic proportional valve to ensure that parts are produced efficiently and accurately.
With exceptional price/performance ratio.
Large open height allows deep box bending.
Fast multiple axis back gauge.
Standard configuration
---
Y1, Y2 magnetic scale positioning for high precision (+/-0.0004'').
X axis precision ball screw back gauge (+/-0.0004'').
4+3axis (Y1,Y2,X,R,Z1,Z2,+V crowning).
Easy slide linear guide mounted back gauge fingers.
Quick clamp.
Side and rear mounted doors with safety interlocks.
Pedestal mounted foot pedal up/down and emergency stop.
Dynamic crowning ( measures deflection and sends feedback to the computer to compensate )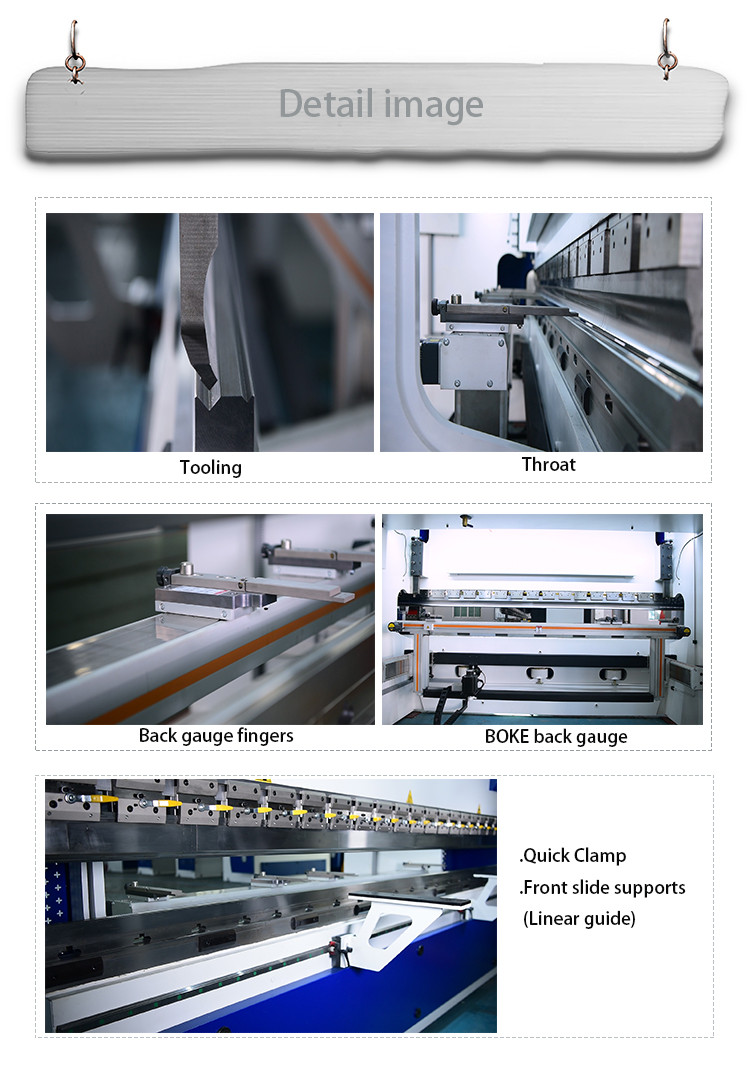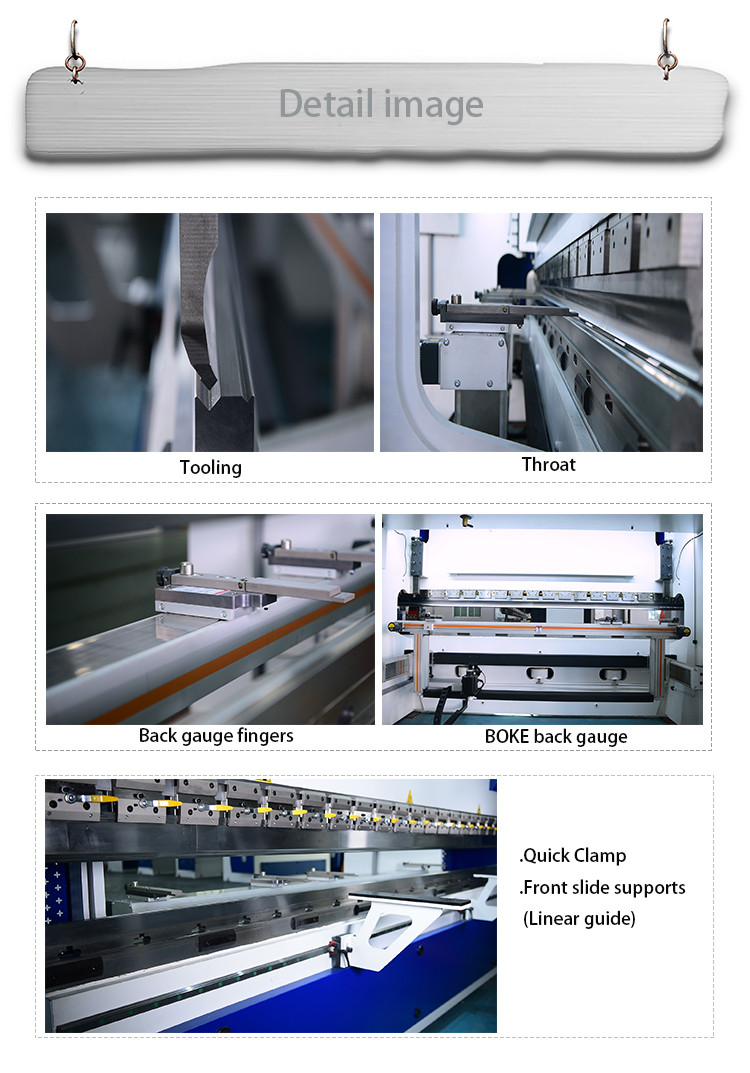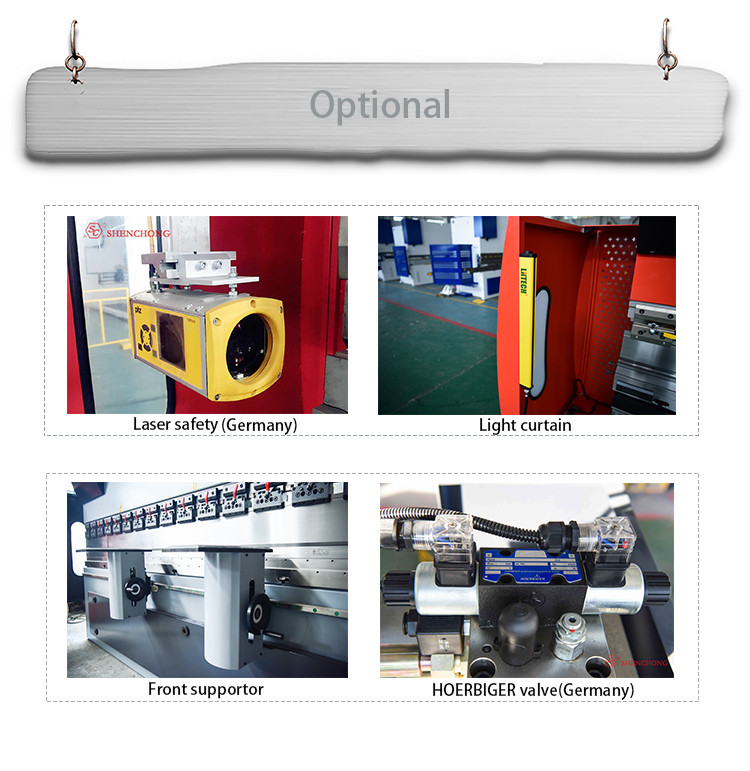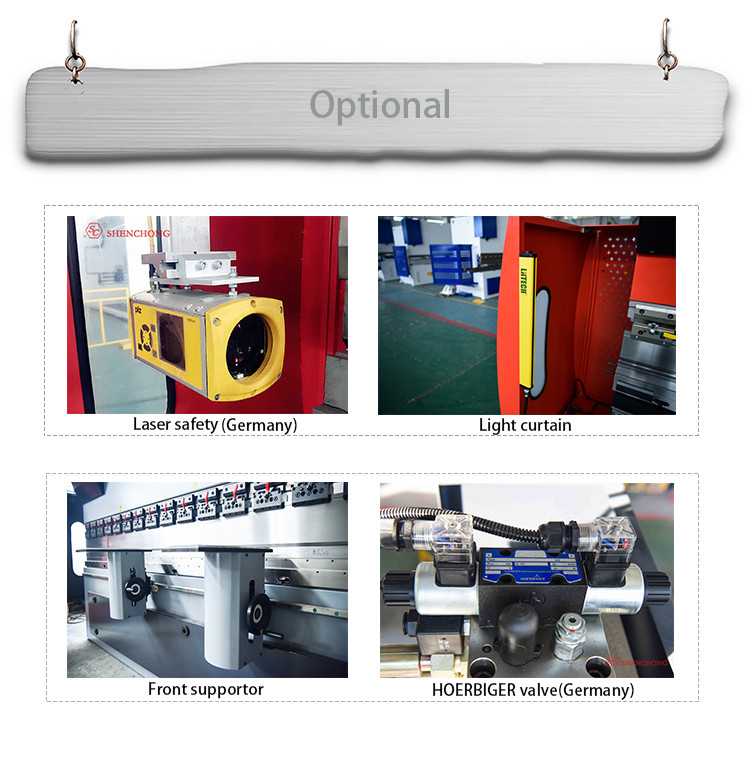 | | | | | | | | | |
| --- | --- | --- | --- | --- | --- | --- | --- | --- |
| Model | Nomal Pressure (kn) | Length of Table (mm) | Distance Between Housing (mm) | Throat Depth (mm) | Stroke (mm) | Open Hight (mm) | Main Motor (kw) | Overall Dimensions |
| 40T/1300 | 400 | 1300 | 1000 | 250 | 160 | 400 | 4 | 1830*1430*2215 |
| 40T/1600 | 400 | 1600 | 1300 | 250 | 160 | 400 | 4 | 2130*1430*2215 |
| 40T/2000 | 400 | 2000 | 1500 | 250 | 160 | 400 | 4 | 2530*1430*2215 |
| 40T/2500 | 400 | 2500 | 2000 | 250 | 160 | 400 | 4 | 3030*1430*2215 |
| 63T/2000 | 630 | 2000 | 1500 | 320 | 160 | 400 | 5.5 | 2540*1640*2225 |
| 63T/2500 | 630 | 2500 | 2000 | 320 | 160 | 400 | 5.5 | 3040*1640*2225 |
| 63T/3200 | 630 | 3200 | 2660 | 320 | 160 | 400 | 5.5 | 3710x1650x2450 |
| 80T/2500 | 800 | 2500 | 2000 | 400 | 160 | 410 | 7.5 | 3050*1650*2305 |
| 80T/3200 | 800 | 3200 | 2660 | 400 | 160 | 410 | 7.5 | 3710*1650*2405 |
| 100T/2500 | 1000 | 2500 | 2000 | 400 | 200 | 450 | 7.5 | 3060*1690*2425 |
| 100T/3200 | 1000 | 3200 | 2660 | 400 | 200 | 450 | 7.5 | 3720*1690*2475 |
| 100T/4000 | 1000 | 4000 | 3200 | 400 | 200 | 450 | 7.5 | 4500*1690*2545 |
| 125T/2500 | 1250 | 2500 | 2000 | 400 | 200 | 450 | 7.5 | 3080*1760*2500 |
| 125T/3200 | 1250 | 3200 | 2660 | 400 | 200 | 450 | 7.5 | 3740*1760*2535 |
| 125T/4000 | 1250 | 4000 | 3200 | 400 | 200 | 450 | 7.5 | 4520*1760*2610 |
| 125T/6000 | 1250 | 6000 | 4800 | 400 | 200 | 450 | 7.5 | 6100*1500*2895 |
| 160T/2500 | 1600 | 2500 | 2000 | 400 | 200 | 470 | 11 | 3100*1830*2520 |
| 160T/3200 | 1600 | 3200 | 2660 | 400 | 200 | 470 | 11 | 3760*1830*2620 |
| 160T/4000 | 1600 | 4000 | 3200 | 400 | 200 | 470 | 11 | 4540*1830*2720 |
| 160T/6000 | 1600 | 6000 | 4800 | 400 | 200 | 470 | 11 | 6100*1570*3000 |
| 200T/3200 | 2000 | 3200 | 2660 | 400 | 200 | 470 | 11 | 3760*1880*2670 |
| 200T/4000 | 2000 | 4000 | 3200 | 400 | 200 | 470 | 11 | 4540*1880*2770 |
| 200T/6000 | 2000 | 6000 | 4800 | 400 | 200 | 470 | 11 | 6080x1950x2900 |
| 250T/3200 | 2500 | 3200 | 2660 | 400 | 250 | 490 | 15 | 3780*1980*2860 |
| 250T/4000 | 2500 | 4000 | 3200 | 400 | 250 | 490 | 15 | 4560x1980x2960 |
| 250T/5000 | 2500 | 5000 | 4000 | 400 | 250 | 490 | 15 | 5080x2100x3250 |
| 250T/6000 | 2500 | 6000 | 4800 | 400 | 250 | 490 | 15 | 6080x2200x3400 |
| 300T/3200 | 3000 | 3200 | 2660 | 400 | 250 | 500 | 22 | 3800*2080*3090 |
| 300T/4000 | 3000 | 4000 | 3200 | 400 | 250 | 500 | 22 | 4580*2080*3090 |
| 300T/5000 | 3000 | 5000 | 4000 | 400 | 250 | 500 | 22 | 5100x2200x3300 |
| 300T/6000 | 3000 | 6000 | 4800 | 400 | 250 | 500 | 22 | 6600*2250*3500 |
| 400T/4000 | 4000 | 4000 | 3200 | 400 | 300 | 605 | 30 | 4580*2460*3600 |
| 400T/5000 | 4000 | 5000 | 4000 | 400 | 300 | 605 | 30 | 5600*2460*3750 |
| 400T/6000 | 4000 | 6000 | 4800 | 400 | 300 | 605 | 30 | 6200x2650x4000 |
| 500T/4000 | 5000 | 4000 | 3200 | 600 | 300 | 615 | 37 | 4200x2800x4100 |
| 500T/5000 | 5000 | 5000 | 4000 | 600 | 300 | 615 | 37 | 5200x2800x4200 |
| 500T/6000 | 5000 | 6000 | 4800 | 600 | 300 | 615 | 37 | 6200x2800x4300 |
| 600T/5000 | 6000 | 5000 | 4000 | 600 | 300 | 650 | 37 | 5200x3000x4400 |
| 600T/6000 | 6000 | 6000 | 4800 | 600 | 300 | 650 | 37 | 6200x3000x5400 |
| 800T/5000 | 8000 | 5000 | 4000 | 700 | 350 | 710 | 55 | 5200*3500*5600 |
| 800T/6000 | 8000 | 6000 | 4800 | 700 | 350 | 710 | 55 | 6200*3500*5800 |
| 1000T/6000 | 10000 | 5000 | 4800 | 700 | 350 | 730 | 55 | 6200*3500*5800 |
Quick Details
---
Condition: New
Place of Origin: Jiangsu, China (Mainland)
Brand Name: ACCURL
Model Number: WEK 100T3200mm
Machine Type: Roller-Bending Machine
Raw Material: Sheet / Plate Rolling
Material / Metal Processed: Carbon Steel
Power: Cnc
Automation: Automatic
Extra Services: End Forming
Certification: CE
After-sales Service Provided: Engineers available to service machinery overseas
Name: WEK 100T3200mm CNC hydraulic press brake
Size: Customized
Color: Customized
Usage: Metal Sheet Bending
Application: Stainless Steel Plate, steel bar, steel plate Bending
Warranty: 13 month
Seal ring:NOK
Valve: USA, First
Punch and die: T7,T8,42CrMo
Control system: All brands available
horizontal press brake
,
hydraulic press brake machine
,
hydraulic sheet metal press brake
,
large press brake
,
press brake bending machine
,
press brake machine
,
sheet metal bending machine
,
sheet metal press brake
,
steel press brake