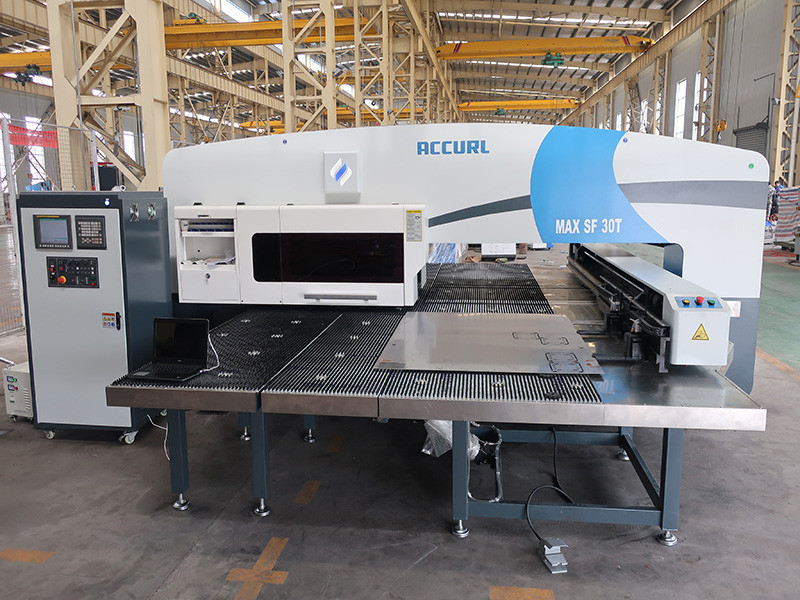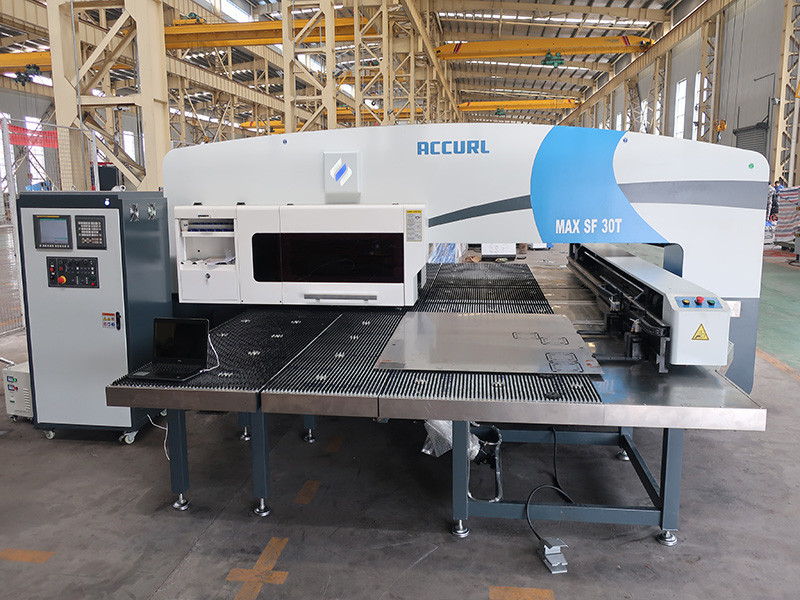 The machine MAX-SF-30T (or in this paper) is Electrical CNC TURRET PUNCH PRESS, compact in structure, easy in operation adjustment,stable in usage and high precision synchronization.
² All components of the machine are designed under the instruction of the Computer aided design and software of CAD/CAE/CAM to fully guarantee the intensity and rigidity of all the components.
² The whole body under total wielded, thickness and reliable in machine body with high-rigidity and good in shock absorption reduction.
² The machine structure are composed by body frame, working table, slide block, main cylinder and back-gauge. The advantage design and produce style can ensure the machine usage and high precision. The main produce procedure as below (all process under strictly inspection)
Plate stock→ physical and chemical inspection→ Plate Pre-treatment (Rust-Cleaning) →CNC flame Cutting→ Cutting the welded joint→ Group Welding→ Gas Shielded Welding→ Ageing treatment→ Milling Planer working→ The Assembly of finished products
² The machine body, Slide Block, Working table and other main components are under one time clamping of large landing boring and milling machine to ensure several geometric accuracy of the main machine.
² The machine is greatly enhanced in anti-torque and electronic load resistance. Machine can normally work in full loaded situation. Working table, Upright Column, Crossbeam and Ram are good and high in design rigidity. Little deformation between the working table and ram when work to guarantee good straightness and uniformity in angle. The machine quoted in this paper is MAX-SF-30T Electrical CNC TURRET PUNCH PRESS.
l Protection function:
---
1. Clamp stamping protection, when rushed clamp area, clamps will automatically avoid.
2. Tonnage overrun protection, when the pressure exceeds the set punch tonnage, the inside insurance will be switch off and stop punching, avoid large pressing makes the bed deformation.
3. Overrun protection, when travel to the limit, the machine will automatically stop, avoid a collision.
4. Automatic diagnostic program function, the devices sound an alarm when the software, system or electric failure, remind check and ruled out. Air pressure protection function, alarm and stop working when air pressure is too low, to avoid damage to the clutch.
5. Voltage protection function, when the voltage fluctuation is too large, can automatic alarm and stop the work, to avoid damage the servo system, electrical components and software program.
6. Lubricating protection, equipment for automatic lubrication, when the failure will alarm and stop working.
l b. Seamless worktable: Seamless worktable design, when the plate moved, it can avoid the plate and the worktable make a collision.
l c. Reversible worktable: Side assist platform adopt cylinder control seamless design, convenient for change the mould.
l d. The turret is made of 40Cr, completed in large processing center; using German mosaic roulette.
l e. Clamp: with clamp automatic avoid collision function, can make no dead area for punching on sheet.
l f. Rotating station: Rotating station is special worm turbine structure, main parts import from Germany.
l g. The system can automatically collect, to select the most suitable mold to processing, and display stamping time, processing capacity, die life (punches), etc.
l h. Carriage and beam integrated design, accurate positioning, moving more smoothly, to eliminate the X, Y-axis dynamic offset case.
| | | | |
| --- | --- | --- | --- |
| NO. | NAME | UNIT | SPECIFICATION |
| 1 | Punch force | KN | 300 |
| 2 | Frame construction | / | O-Frame |
| 3 | Crossbeam length | mm | 3200 |
| 4 | Horizontal slide block distance | mm | 600 |
| 5 | Longitudinal guide spacing | mm | 1400 |
| 6 | Longitudinal slide block distance | mm | 850 |
| 7 | Longitudinal guide length | mm | 2200 |
| 8 | Processing sheet size | mm | 1250x5000(with one re-positioning) |
| 9 | Max. sheet processing thickness | mm | 4 |
| 10 | Max. sheet diameter | mm | Φ88.9 |
| 11 | Max. nibbling speed | hpm/min | 280(stepping distance30mm) |
| 12 | Max. feeding speed | m/min | 80 |
| 13 | Turret positioning | / | Double cylinder positioning |
| 14 | No. of rotation station | set | 12/16/20/24/32(this quotation under24) |
| 15 | Die form | / | Mosaic turret, Long guide mold |
| 16 | Processing accuracy | mm | ±0.10 |
| 17 | No. of controlling axis | pcs | 3/4 |
| 18 | Total power | kw | 14/15 |
cnc punching machine