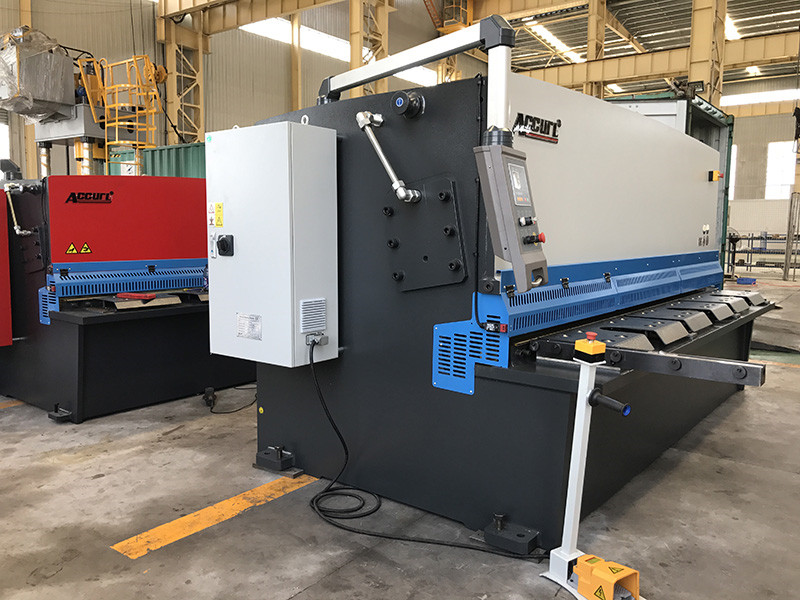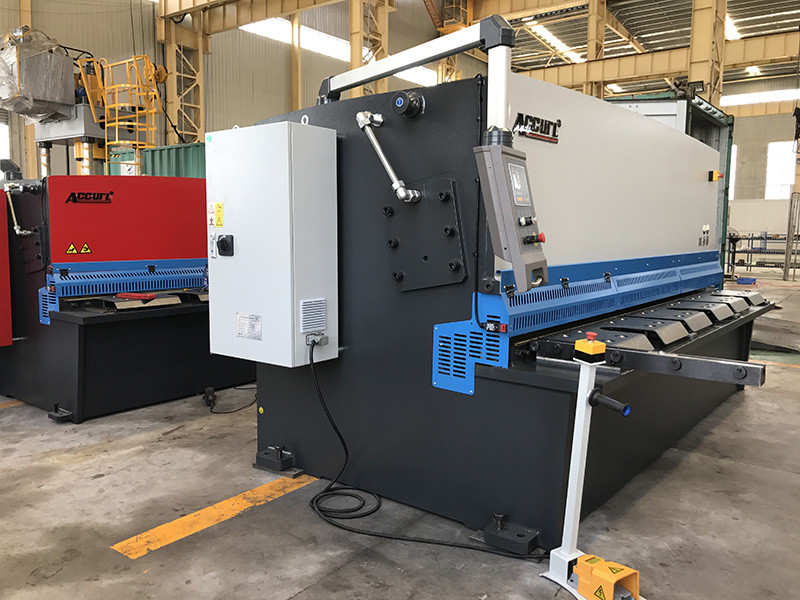 Product Description
---
Hydraulic shearing machine QC12K-8*3200
1. CE, ISO, SGS Certification
2. BOSCH Hydraulic system
3. High performance
4. High quality with good price
DISCRIPTIONS about CNC hydraulic shearing machine
---
1. The machine employs hydraulically-driven swing beam, the steel plate welded structure, and accumulator -based pullback cylinder with steady and reliable operation.
2. Stepless control for the stroke; the gap between up blade and down blade is manually adjusted by handle for high uniformity; Protection fence and the electric interlock to ensure the operation safety.
3. The closed loop control system that consists of CNC system and position coder features fast response speed, high precision, and exceptional stability and can ensure the accuracy of displacement of back gauge. Moreover, CNC system has the accessory functions of compensation and automatic check.
PARAMETERS of CNC hydraulic shearing machine
---
Model Number: QC12K-8x3200
Shear Angle: 1°30
SPM: ≥8
Back Gauge Adjustment: 20-600mm
Main Motor Power: 11KW
Net Weight: 7200Kg
Outline Size: 3880x1830x1720mm
Hydraulic system of CNC hydraulic shearing machine
---
1. BOSCH hydraulic control system, more reliable and easy for maintenance. The hydraulic system consists of motor, oil pump and valve groups.
2. Every complete working cycle can be achieved through the control of hydraulic valve. The remote adjustment valve can adjust the working pressure at the right side of the wall board.
3. All seals use Japan NOK good quality and high performance
4. Overload overflow protection is outfitted to hydraulic system, which can assure no leakage, and the oil level can be read or seen directly
Electric control system of CNC hydraulic shearing machine
---
1. Electrical components are imported or from Sino-foreign joint Venture, in accordance with international standards, reliable safety, long life, good anti-interference ability, a radiation unit is fitted in electrical cabinet.
2. Protective fence and the safety interlock to ensure the operation safety. Have a movable single-hand pedal switch, easy to operate.
3. Emergency stops on machine and foot switch for safety and Fence like body guard is standard or light
shearing machine controller: E200S
---
E200S features
1. Backgauge control.
2. BUS mode control servo system.
3. Stroke length Limitation.
4. Double programmable digital output.
5. Program memory of up to 40 programs up to 25
6. One side positioning.
7. Retract function.
8. mm/Inch.
9. Chinese/English.
shearing machine controller: DAC310
DAC310 features
1. Backgauge control
2. Bright LCD display, 275x 48 pixels
3. Gap or Angle control
4. Stroke length limitation
5. Actual and programmed position visualisation
6. Stock counter
7. Up to 100 working steps programmable
8. Panel based housing
9. Servo, frequency inverter drive, two-speed AC motor control
shearing machine controller: DAC360
DAC360 features
1. Panel based housing
2. Bright LCD screen
3. Backgauge control
4. Retract function
5. Cutting angle control
6. Cutting gap control
7. Stroke length limitation
8. Manual movement of axes
9. Force control
NO.
ITEMS
PARAMETER
UNIT
1.
Model Number
QC12K-8x3200
1 set
2.
Plate
8x3200
3.
Shear Angle
1°30′
4.
SPM
≥8
min -1
5.
Back Gauge Adjustment
20-600
mm
6.
Main Motor Power
11
KW
7.
Net Weight
7200
Kg
8.
Outline Size
(L xW xH)
3880x1830x1720
mm
Basic Info
---
Model NO.: QC12K 8X3200
Type: Shearing Machine/Cutting Machine
Place of Origin: Jiangsu, China
Brand Name: Kingball
Color: All Color Is Available
Model Number: QC12k 8X3200
Certificaton: CE,ISO,SGS
Power: Hydraulic
Material: Iron and Metal Sheet
Machine Type: CNC Machine
Dimension (Lxwxh): 3880X1830X1720mm
Guarantee Period: Two Years
Trademark:ACCURL
Transport Package: Nude Package or Plastic Paper
Specification: CE&ISO standard
Origin: Anhui, China
HS Code: 8462399000
4 foot sheet metal shear
,
cnc hydraulic shearing machine
,
hydraulic swing beam shear
,
hydraulic swing beam shearing machine
,
nc shearing machine
,
sheet metal guillotine