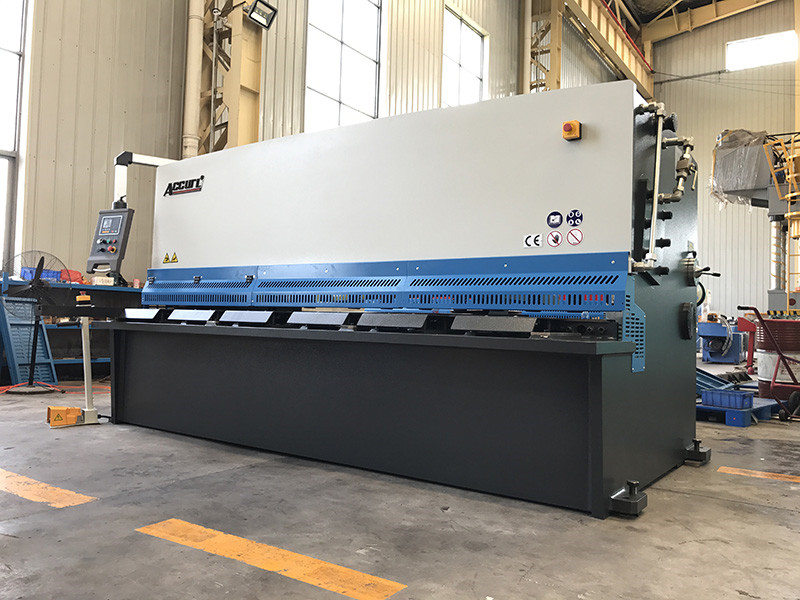 The Machine of Whole structure and Characteristics
---
1.Totally European design,streamlined looking,Frame: consists of right and left wall boards, working table, oil box, slot steel and etc. The stress of the welded parts can be eliminated by vibration. The machine enjoys high accuracy and high strength and can be transported easily.
2.As the cutting beam has been designed in inner-inclined structure, it is easy for plates to fall down and the accuracy of products can also be guaranteed.
- High accuracy, high efficiency, simple and convenient operation, good performance, favorable price and best service.
- The machine by the European Union CE certification and ISO quality system certification.
A. Hydraulic system
---
1.Adopt integrated hydraulic control system, more reliable and easy for maintenance. The hydraulic system consists of motor, oil pump and valve groups and it is installed at the top of the oil box.
2.Every complete working cycle can be achieved through the control of hydraulic valve.The remote adjustment valve can adjust the working pressure at the right side of the wall board.
3.All seals in cylinder is imported,the most famous brand,good quality and high performance.
4.Overload overflow protection is outfitted to hydraulic system,which can assure no leakage,and the oil level can be read or seen directly.
B. Cutting control system
---
1.The cutting times of this machining tool is displayed on a MD11-1 NC or Estun E10 NC and accurately show the cut after the block size and number display.
2.The parallelism of the sheet to be cut off and the precision of the shear size can be ensured. The cut stroke and cut times also can be controlled.
3.Light alignment device eases drawing line for cutting, Standard front support sheet frame, A set of standard blades.
4.System uses a bladder-type hydraulic accumulator as an auxiliary energy,absorb the pressure shock,the machine is running smooth, low noise.
C. Blade adjust and cutting precision
---
1.Adopt hand-wheel to rapidly and accurately adjust the blade clearance, Shearing in sections, shadow-line cutting.
2.The rectangular monoblock blades featuring long life with 4 cutting edges, quality high-carbon high-chrome blades D2 quality.
3.Shearing angle is Variable, which can reduce the shearing deformation of sheet metal and can shear much thicker sheet metal.
4.System uses a bladder-type hydraulic accumulator as an auxiliary energy,absorb the pressure shock,the machine is running smooth, low noise.
blade gap adjustment on shearing machine
D. Advance technology and procedures
---
1.Optional:Holland Delem DAC350, DAC360, DAC310 or Estun E200 cnc controller automatically controls the backgauge, cutting stroke, cutting angle and the blades gap together the numbers of workpieces accurately.
2.European key electrics and Hydraulic Valves Advanced integral hydraulic system with good reliablity-Imported from Germany.
3.X axis back gauge clearance are controlled by E10s which ensures a higher cutting accuracy, Backgauge with Optional ball screw and line guide rail,, maximum stroke of backgauge can realize 1000mm.
E. Electrical system and the safety interlock
---
1.Electrical components are imported or from Sino-foreign joint Venture,in accordance with international standards,reliable safety,long life,good anti-interference ability,a radiation unit is fitted in electrical cabinet.
2.Protective fence and the safety interlock to ensure the operation safety. Have a movable single-hand pedal switch,easy to operate.
3.Emergency stops on machine and foot switch for safety and Fence like body guard is standard or light curtain is optional.
Quick Details
---
Condition: New
Place of Origin: Anhui, China (Mainland)
Brand Name: ACCURL
Model Number: shearing machine for iron plate
Voltage: 380V 220V Optional
Rated Power: 7.5kw
Dimension(L*W*H): 3140X1740X2040mm
Weight: 4200KG, 4200kg
Certification: CE ISO, CE&ISO
Warranty: 2 Years, 2 years
After-sales Service Provided: Engineers available to service machinery overseas
Name: shearing machine for iron plate
Cutting material: metal sheet, steel plate, stainless steel plate, etc.
Type: QC11K
Control system: E21S (DAC310, DAC360 optional)
Color: Blue (optional)
Motor: 7.5 kw
Dimension: 3140X1740X2040mm
4 foot sheet metal shear
,
cnc hydraulic shearing machine
,
hydraulic plate shearing machine
,
nc shearing machine
,
plate shearing machine
,
sheet metal shear