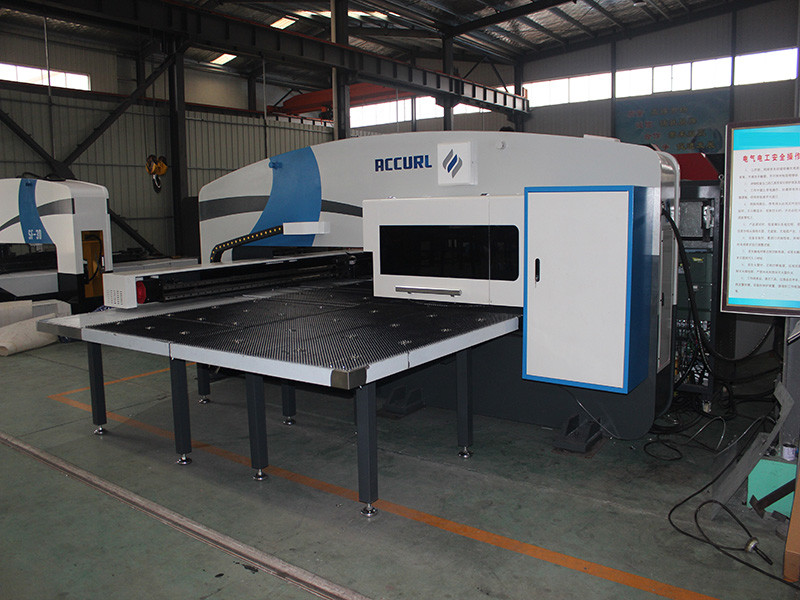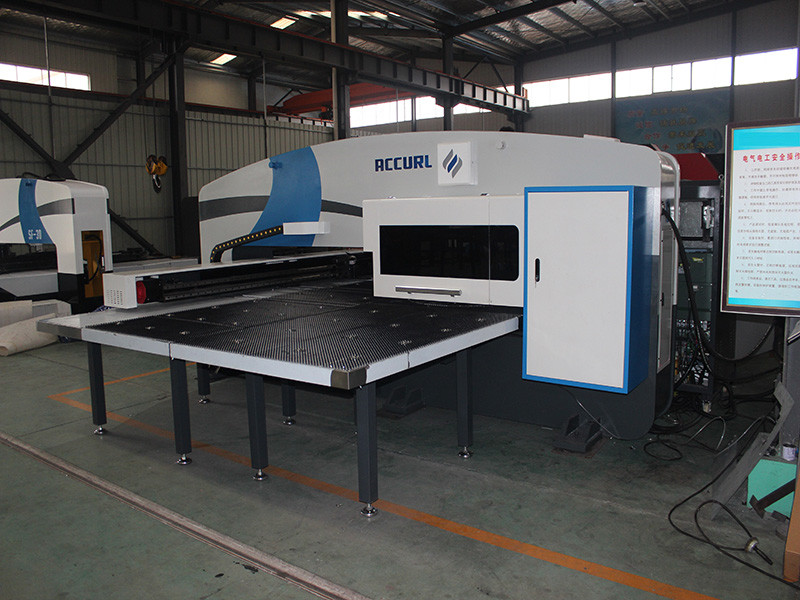 1. O-frame design.
2. Thick turret with sleeve structure.
3. Keeping-touch index tool position, patented technology of NISSHINBO.
4. Rapid loading and unloading tools.
5.Main parts (turret parts, components of index tool and reducer box etc.) supplied by N'SSHINB) Company.
6. Hydraulic punch head with high speed and hydraulic system of H+L from Germany, the maximum freque of punching with no-load reaches 1000 times/min/600 times/min.
7. SIEMENS 802D CNC system.
8. Rolling function (on HPI series), four-axis linkage function.
No.

Name
Unit
HPI-3044
HPI-3047
HPI-3048
HPI-3057
HPI-3058
1

Normal pressure

KN
300
300
300
300
300
2

Max. sheet dimension

(include first position)

mm
1250×2500
1250×4000
1250×5000
1500×4000
1500×5000
 3
Max.Thickness
Carbon steel sheet(mm)
6.35
6.35
6.35
6.35
6.35
Stainless steel sheet(mm)
4
4
4
4
4
4
Max. Punch Dia.
mm
Φ88.9
Φ88.9
Φ88.9
Φ88.9
Φ88.9
5
Station
36
36
36
36
36
6

Punch accuracy

mm
±0.1
±0.1
±0.1
±0.1
±0.1
7

Punch times per minute

mm
1000
1000
1000
1000
1000
8

Punch frequency

(1mm step 6mm punching stroke)

cpm
530
530
530
530
530
9

Punch frequency(25.4mm step 6mm punching stroke)

cpm
295
295
295
295
295
10

Max.sheet speed

m/min
102
102
102
102
102
11
Turret speed
rpm
30
30
30
30
30
12
CNC axis
5(X,Y,Z,T,C)
5(X,Y,Z,T,C)
5(X,Y,Z,T,C)
5(X,Y,Z,T,C)
5(X,Y,Z,T,C)
13
Power supply
KW
21
23
24
23
24
14
Air resource
Mpa
0.6
0.6
0.6
0.6
0.6
15

Overall dimension

L
mm
5600
5600
5600
6100
6100
W
mm
2300
4000
5000
4000
5000
H
mm
2200
2200
2200
2200
2200
16
Weight
kg
14000
15000
16000
18000
19000
Main structure and feature
Designed by Nisshinbo, Japan. Nisshinbo supply the key components, it is the new generation of CNC turret punch manufactured. The machine is consisted of frame, hydraulic system, worktable, turret structure, auto-index station, beam carriage, pneumatic system, lubrication system, lamp, repositioning system, electrical control system and etc.
Frame
Adopt the steel structure, wipe off the internal force through backfired after welding.
Adopt the pentahedron milling centre which imported from Spain, finished all machining surfaces after one time setting up. Ensure the high precision and high quality of machine.
Adopt the closed "O" type, more stable and better rigidity
Hydraulic system
This part is consisted of hydraulic station, 30tons punch unit and electric-card. The complete set imported from H+L Gmbh, Germany.
Under the control of CNC system, it can realize all kinds of punching criterion and with the hydraulic automatically overload protection.
The stroke of the hydraulic ram-head can be adjusted according to the actual instance, so that it can attain the better punching time.
Worktable
Adopts worktable with ball steel.
Turret structure
Thick turret structure, imported with original packaging from Nisshinbo, Japan, ensures the accuracy and wearing capacity of the turret.
Slow down and drive system imported from Japan
Adopt Japan reduction box and Synchronous cog belt
Auto-index station
Adopts keeping touch index tool position worm wheel driven unit , ensure the bidirectional driven precision.
In order to ensure high precision and reliability, worm wheel units are imported from Japan with original packaging.
Beam carriage & clamps
Adopts the high precision, long-stroke ball screw and linear guideway, having rapid speed, high moving precision, and long life.
High strength prolonged clamp makes the dead zone of clamp as smaller as possible.
Each clamp has one sensor, once sheet is loosened, punching operation will stop immediately.
Pneumation system and lubrication system
Consists of air-source treatment 4-unit and every control air-valve, and the pressure is 0.65Mpa, the perform components have turret position cylinder, X axes origin position cylinder, re-position cylinder and clamp etc.
Adopts centralized lubricate mode.
Repositioning
The repositioning is consisted of two cylinders and relevant valves. When the machine is in repositioning, it tightly press the workpiece press on the worktable, and when the clamp moves, the workpiece cannot move, to ensure the precision of the position of the two punching , also it can be enlarge the process range for the machine.
CNC system
Adopts the SIEMENS controller from Germany.
Main part list
---
No
Name
Brand
1
CNC system
SIEMENS, Germany
2

Servo motor;amplifier

SIEMENS, Germany(full set)

3
Servo system
4
Hydraulic ram-head unit
H+L, Germany
5
Hydraulic SYSTEM
6
Electrical card
7
Thick turret; die holder
NISSHINBO, Japan
8
Auto-Index tool station
9
Synchronous gear-belt, chain
TSUBAKI, Japan
10
Shaft coupling
11
Worm wheel unit
TSUBAKI, Japan
12
Bearing; bearing seat
NSK, Japan
13
Linear guide
HIWIN,Taiwan
14
Ball screw
15
Air source treatment 4-unit
SMC, Japan
2 positions 5 pass electric-magnetic valve
2 positions 3 pass electri-magnetic valve
Standard
MISUMI, Japan
16
Breaker
SIEMENS, Germany
17
Contactor
18
Button
Schneider,Francs
19
Proximity switch
 Contrinex,Swiss
20
Proximity switch clamp(dead-zone of clamp)
BAULLUF, Japan
cnc punching machine