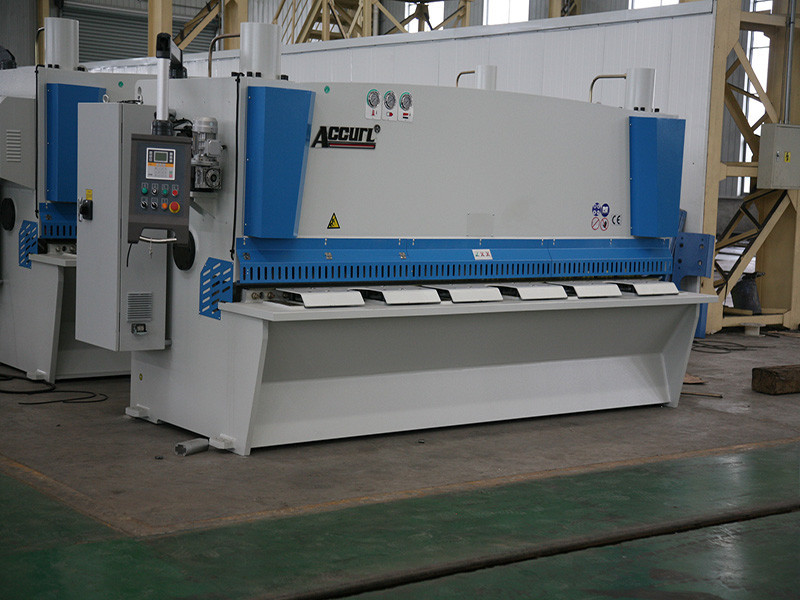 Properties and characters
---
1.It is the second generation of hydraulic plate shearing machine.
2.Machine frame and knife rest are welded integral. Vibration eliminates stress. Precision is kept well.
3.The advanced integrated hydraulic system is reliable.
4.Adopt three-point support rolling guide to eliminate gas between supports and improve shearing quality.
5.Gap between blades is adjusted with hand-operated wheels, so it is quick, exact and convenient.
6.The four rectangular blades all can be used for a long time.
7.The up knife rest adopts interior inclining structure for falling conveniently and improving precision.
8.It has the function of shearing by stages.
9.It has the lighting function.
10.Back stop is controlled with E21 numerical control system.
Convenient working and person security protection(Optional)
---
1. The machine can be equipped with full closed back side door to prevent any careless inside when cutting.
2. The machine can be equipped with cutted lift out declined platform under the back gauge for convenient operation.
3. Light curtain can be equipped also for security standard needs.
4. Light function is equipped for convenient checking and care when cutting.
NC/CNC System and advance touch screen function
---
The normal system for CNC are Nanjing ESTUN (Holand Delem 60% JOINTED) system: ESTUN E20,ESTUN E21s and ESTUN E200 system,DELEM DA310 and DELEM DA360 and also Swiss CYBELEC system DNC60 and CT6 (Touch Screen). X/Y axis can be controlled and displayed. The backgauge distance can be controlled and calculated into 1000MM long.
The NC system will be ESTUN E10 mostly we use for high quality guarantee.
All of their instruction manual is available when applied to SIECC/SIECCTECH
The specifications of the machine
---
Model
Thickness of sheared plate
mm
Width of sheared plate
mm
Strokes
min -1
Scope of back stop
mm
Cutting angle
°
Throat depth
mm
Motor power
kw
Overall dimension
mm(L×W×H)
4×2500
4
2500
25-45
600
0.5-1.5
100
5.5
3000×2000×1850
6×2500
6
2500
20-45
600
0.5-1.5
125
7.5
3030×2075×1920
6×3200
6
3200
16-45
600
0.5-1.5
125
7.5
3730×2075×1970
6×4000
6
4000
14-45
600
0.5-1.5
125
7.5
4530×2075×2080
6×5000
6
5000
11-40
800
0.5-1.5
125
7.5
5530×2075×2210
6×6000
6
6000
9-36
800
0.5-1.5
125
11
6530×2075×2520
7×7000
7
7000
7-28
800
0.5-1.5
125
11
7530×2075×2830
8×2500
8
2500
20-45
600
0.5-1.5
125
11
3040×2075×1920
8×3200
8
3200
16-45
600
0.5-1.5
125
11
3740×2075×1920
12×2500
12
2500
12-35
800
0.5-2
125
15
3110×2575×2210
12×3200
12
3200
7-35
800
0.5-2
125
15
3810×2575×2420
12×4000
12
4000
8-35
800
0.5-2
125
15
4610×2575×2530
16×2500
16
2500
16-40
800
0.5-2.5
125
22
3130×2655×2200
16×4000
16
4000
12-40
800
0.5-2.5
125
22
4630×2655×2570
20×2500
20
2500
16-40
800
0.5-2.5
125
30
3160×2855×2300
20×4000
20
4000
12-40
800
0.5-2.5
125
30
4660×2855×2720
25×2500
25
2500
8-15
800
0.5-3.5
120
37
3330×2000×2650
25×3200
25
3200
8-15
800
0.5-3.5
120
37
3970×2100×2865
25×4000
25
4000
6-12
1000
0.5-3.5
120
37
4780×2500×3150
32×2500
32
2500
6-12
1000
0.5-3.5
120
45
4100×2300×3200
32×3200
32
3200
8-12
1000
0.5-3.5
120
55
1900×2650×3450
40×2500
40
2500
4-10
1000
0.5-3.5
120
75
4100×2550×3500
40×3200
40
3200
4-10
1000
0.5-3.5
120
75
4900×2900×3750
cnc hydraulic shearing machine
,
metal shearing machine
,
nc shearing machine
,
sheet metal shear