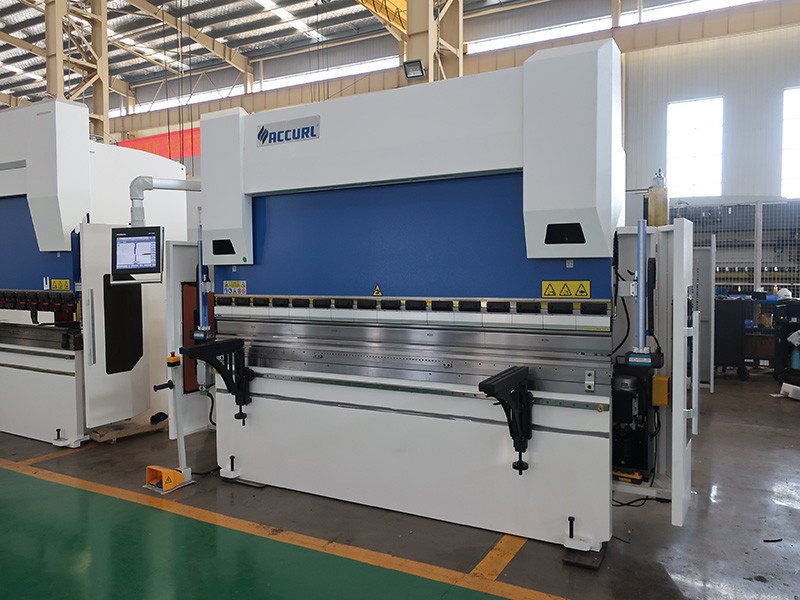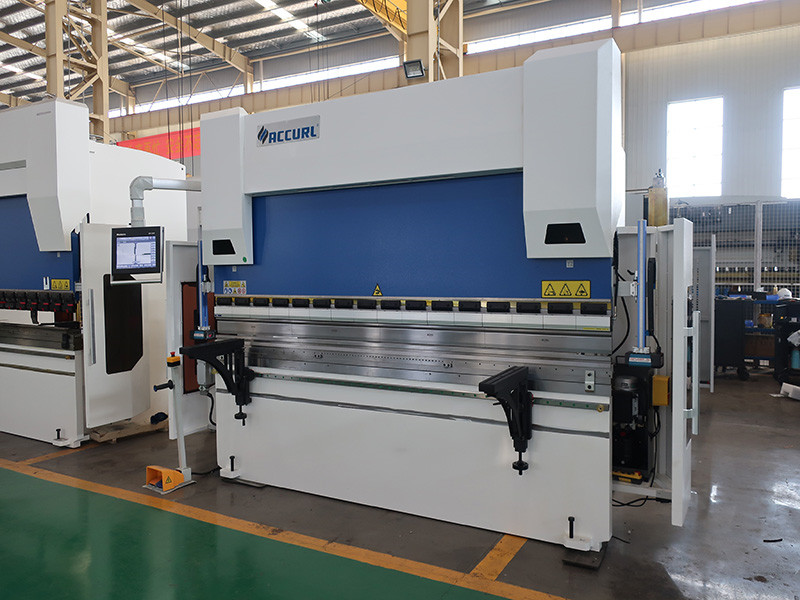 Specifications
---
2-WE67K CNC Tandem Press Brake
1.DELEM CNC system
2.BOSCH servo hydraulic system
3.With optical scale
4.Upper and lower dies
Structure
---
1:The frame is split steel welding, parts assembly structure;
2:Rack, on skateboards and welding around wall panels shall be subject to full stress annealing treatment after the elimination of internal stress, and then processing the parts with a whole face, to ensure that the static accuracy of machine tools;
3:Paint the pieces before welding subject to the surface of sand blasting, surface clean-up level for sa2.5 (gb8923-88), after the paint coating machine delivery, installation and commissioning at the scene after the paint surface. Nippon polyurethane topcoat paint used, the color specified by the demand side;
4:Machine using the table plate thickening, and about the slider panel, so that the stiffness of an excellent machine, the machine synchronization and the use of skateboards positioning CNC electro-hydraulic servo position feedback system, which dynamically through grating detected on both sides of the physical location of the slider, feedback to the CNC system, real-time precise control of the two main fuel tank trip (y1, y2-axis), so the slider can be promptly corrected the error on both sides of the synchronization and accurate positioning, so that the slider is completely contained in the case of migraine can be always maintained in parallel with the working platform and accurate positioning to ensure that the machining accuracy of machine tools.
5:3200 Liters of hydraulic system uses a large volume tank, Germany imported original BOSCH company dedicated bending machine drive electro-hydraulic servo valves, imported from Japan internal gear pump, Zhejiang Yonghua company production pipeline joints, Japan NOK Waldorf card complete set of oil cylinder seals, high-quality Chinese-made motor. Compact hydraulic system, sealing performance, simultaneous high-precision, long service life, the eight-hour working system work properly. Hydraulic fluid tank with liquid thermometer. Smooth hydraulic cylinder action, non-impact, crawling phenomenon.
6:Electrical control system should be in line with international standards, safe and reliable, anti-interference ability, Furuize Tianjin electrical control cabinet equipped with electrical cabinet production company dedicated air-conditioning cooling device, the system with movable foot pedal operation, all electrical components should be used Schneider products.
7:Upper and lower mold material good, long working life.
8: equipment noise must be below national standards, the limit value is allowed to 85DB.
Main imported parts
---
-- CNC system: Holland DELEM DA52
-- Hydraulic system: Germany BOSCH
-- Scales: Germany
-- High pressure axis piston pump: Domestic famous brand
-- Tubing connector: Zhejiang
-- Seals: Japan
Quick Details
---
Condition: New
Place of Origin: Anhui, China (Mainland)
Brand Name: ACCURL
Model Number: 2-WE67K
Machine Type: Pipe and Tube Bending Machine
Raw Material: Sheet / Plate Rolling
Material / Metal Processed: Carbon Steel
Power: Cnc
Automation: Automatic
Extra Services: Other
Certification: ISO 9001:2000
After-sales Service Provided: Engineers available to service machinery overseas
Name: Hydraulic CNC Pipe Bending Machine
Color: Customized
Type: Hydraulic Bending Tools
Usage: Rail Bending Machine
Model: 2-WE67K
Application: Pipe making
Warranty: 1 Year
Size: 2*6000*2050*3200
Material: Carbon steel
Main Motor Power: 2*15 kw
50 ton press brake
,
brake bender machine
,
hydraulic sheet metal press brake
,
large press brake
,
sheet metal press brake