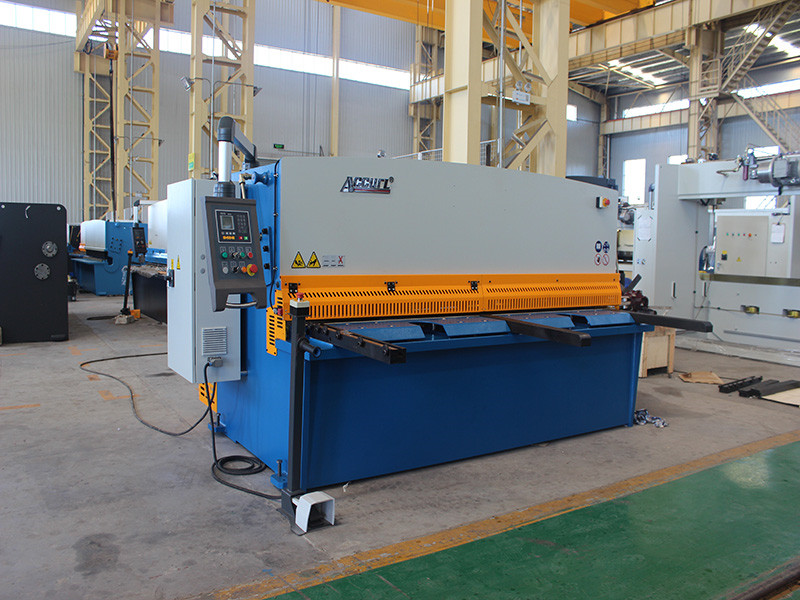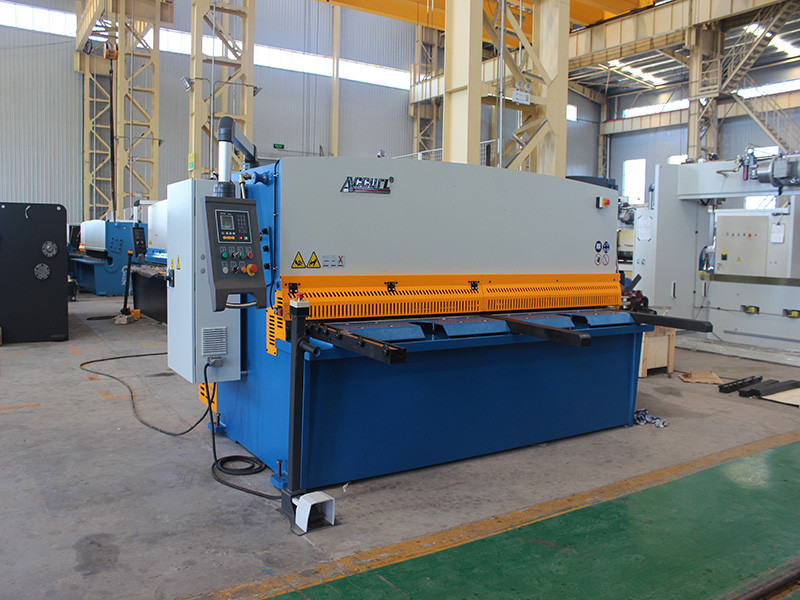 Performance and Feature
---
1. The second generation of Hydraulic swing beam shearing machine.
2. Rack, blade frame is entire welded,vibration to eliminate inner stress,to maintain good accuracy.
3. Use advanced integrate hydraulic system and good reliability.
4. Use three-point support rolling guide to eliminate the support gap,improve cut quality.
5. The clearance between the blades adjusted by hand wheel rapidly,accurancy and convenient.
6. Rectangular blade.four cutting edges, and loong service life.
7. Adjustable shearing angle to reduce deformation of the sheet.
8. The upper blade frame use introversion structure,easy for blanking to improve the accuracy of production.
9. With the sub-shear function, motorized backgauge,digital display.
Machine Standard Equipement
---
1) Estun E21S control system
2) Powered Back Gauge X-Axis
3) DELTA inverter controlled back gauge
4) HIWIN ball screw and polished rod with 0.05mm accuracy
5) Squaring Arm and Front Support Arms
6) Germany BOSCH-REXROTH hydraulic valve
7) Germany SIEMENS main motor
8) Telemecanique/Schneider Electrics
9) Hydraulic & electrical overload protection
10) Cutting Line Illumination and Wire for Shadow Line Cutting
11) Top Blade with Two Cutting Edges and Bottom Blade with Four Cutting Edges.(6CrW2Si)
Machine system description
---
Cutting controller system
1.The cutting times of this machining tool is displayed on a MD11-1 NC or Estun E10 NC and accurately show the cut after the block size and number display.
2.The parallelism of the sheet to be cut off and the precision of the shear size can be ensured. The cut stroke and cut times also can be controlled.
3.Light alignment device eases drawing line for cutting, Standard front support sheet frame, A set of standard blades
4.System uses a bladder-type hydraulic accumulator as an auxiliary energy,absorb the pressure shock,the machine is running smooth,low noise.
Blade adjust and cutting precision
1.Adopt handwheel to rapidly and accurately adjust the blade clearance, Shearing in sections, shadow-line cutting.
2.The rectangular monoblock blades featuring long life with 4 cutting edges, quality high-carbon high-chrome blades D2 quality.
3.System uses a bladder-type hydraulic accumulator as an auxiliary energy,absorb the pressure shock,the machine is running smooth,low noise.
Advance technology and producer
1.Optional:Holland Delem DAC350, DAC360, DAC310 or Estun E200 cnc controller automatically controls the backgauge, cutting stroke, cutting angle and the blades gap together the numbers of workpieces accurately.
2.European key electrics and Hydraulic Valves Advanced integral hydraulic system with good reliablity-Imported from Germany.
3.X axis back gauge clearance are controlled by E10s which ensures a higher cutting accuracy, Backgauge with Optional ball screw and line guide rail,, maximum stroke of backgauge can realize 1000mm.
hydraulic plate shearing machine
,
hydraulic swing beam shear
,
hydraulic swing beam shearing machine
,
metal shearing machine
,
plate shearing machine