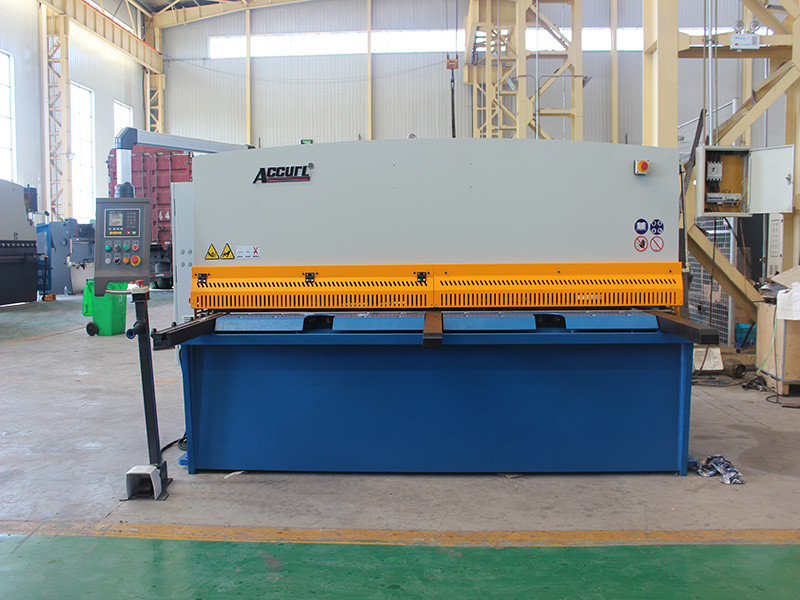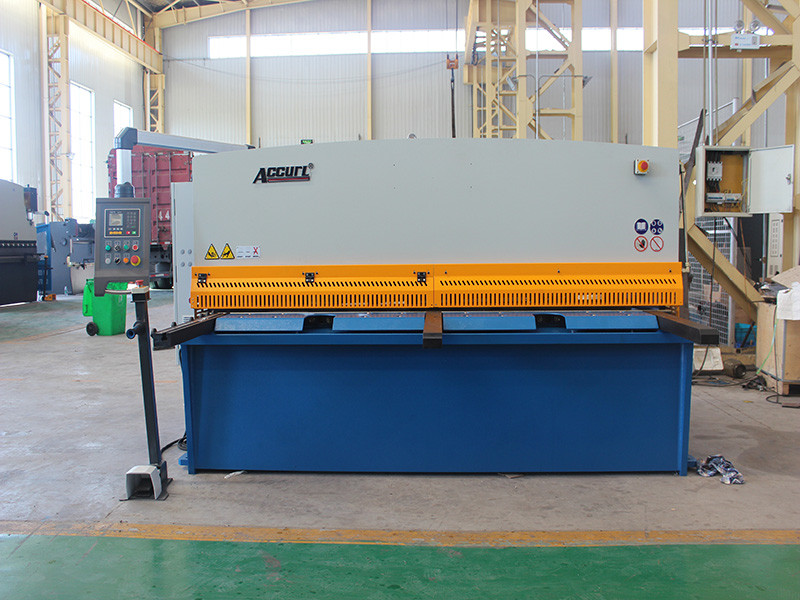 Main Features
---
1.Totally EU streamlined design,Monoblock by welding robots & aparatus and stress relief process by Annealing treatment.
2.The ACCURL Hydraulic Guillotine is a Swing Beam Action machine which is produced in a variety of cutting lengths and capacity options.
3.Equipped with lighting-alignment, so as to align when shearing. The stroke of knife beam can be adjusted in stepless mode.
4. Adopt integrated hydraulic system, more reliable and easy for maintenance. and the hydraulic system from Bosch-Rexroth, Germany,
5. Hydraulic drive, return of knife beam is smooth and prompt by nitrogen cylinder.
6. CE conformity including Tiltable Fornt Finger Guard and Optical Rear Safety Guard,
7. High quality shear blades, Service Kit, Colours are light/dark grey and yellow.
Standard Equipment:
---
1.Rapid and precise blade clearance adjustment by single handle on the side frame
2. Multi Edge Blades for cutting Aluminium, Mild Steel and Stainless Steel
3. Cutting Line Illumination and wire for shadow line cutting
4. Counter of Strokes, Cutting Length Adjustment
5. Hydraulic and Electrical overload protection
6. Squaring Arm and Front Support Arms
7. Bed Infill Plates with Ball Transfers
8. Delta inverter with ball screw and polished rod with 0,01 mm accuracy.
Better Cuttings:
---
1. Backgauge adjustment according to blade gap.
2. Backgauge retraction feature.
3. Sub-program and programming loop.
4. Sequence repeat function.
5. Auto cutting (Flying cut).
Optional Equipment:
---
1.Roller Rear Supporting Rack
2.Pneumatic Sheet Supporting System
3.Table Mounted Sheet Angle Cutting Gauge
4.CNC Control with input of Plate Thickness,
5.Backgauge Position and Cutting Length
6.GoTo Backgauge Control
Specifications for MS7-16X4000MM Shearing Machine
---
Model
MS7-4×2500
MS7-4×3200
MS7-4×4000
MS7-6×2500
MS7-6×3200
MS7-6×4000
MS7-6×6000
Cut Thickness
mm
4
4
4
6
6
6
6
Cut length
mm
2500
3200
4000
2500
3200
4000
6000
Shear Angle
Degree
1°30'
1°30'
1°30'
1°30'
1°30'
1°30'
1°30'
SPM
min-1
≥ 22
≥ 18
≥ 12
≥ 16
≥ 12
≥ 10
≥ 7
Back Gauge
mm
600
600
600
600
600
600
600
Throat Depth
mm
100
100
100
120
120
120
120
Main Motor
kW
5.5
7.5
7.5
7.5
7.5
7.5
11
Net Weight
kg
4650
4950
6900
5140
6250
8520
17000
Outline Size (L×W×H)
mm
3300×1600
×1700
3950×1600
×1700
4600×1705
×1600
3150×1500
×1600
4000×1700
×1800
4650×1700
×1800
6780×2450
×2100
Model

MS7-8×2500

MS7-8×3200

MS7-8×4000

MS7-10×3200

MS7-10×4000

MS7-12×2500

MS7-12×3200

Cut Thickness

mm

8

8

8

10

10

12

12

Cut Thickness

mm

2500

4000

3200

3200

6000

2500

3200

Shear Angle

Degree

1°30'

1°30'

1°30'

1°50'

1°50'

2°

2°

SPM

min-1

≥ 14

≥ 12

≥ 10

≥ 12

≥ 6

≥ 10

≥ 9

Back Gauge

mm

600

600

600

600

600

800

800

Throat Depth

mm

120

120

120

120

120

170

170

Main Motor

kW

7.5

7.5

11

11

18.5

18.5

18.5

Net Weight

kg

5900

6500

7360

8100

21800

9600

11700

Outline Size (L×W×H)

mm

3180×1680




×1700

4000×1800




×1850

4680×1800




×1850

4000×1950




×1900

6880×2260




×2100

3300×2030




×1840

4200×2050




×2100
Model
MS7-12×4000
MS7-12×6000
MS7-16×2500
MS7-16×3200
MS7-16×4000
MS7-16×6000
Plate
12
8
16
16
16
16
Cut Thickness
mm
4000
6000
2500
3200
4000
6000
Cut Thickness
mm
1°80
2°
2°9'
2°
2°
2°
SPM
min-1
≥ 8
≥ 4
≥ 9
≥ 8
≥ 7
≥ 4
Back Gauge
mm
800
800
800
800
20-1000
20-1000
Throat Depth
mm
170
320
315
320
320
320
Main Motor
kW
18.5
30
18.5
18.5
18.5
22
Net Weight
kg
13800
38000
11100
12900
19700
44000
Outline Size (L×W×H)
mm
4800×2270
×2000
6900×2800
×2500
3310×2240
×2000
4200×2150
×2200
4820×2490
×2460
7100×2900
×2650
Model
MS7-20×3200
MS7-20×6000
MS7-25×2500
MS7-25×3200
MS7-32×2500
MS7-32×3200
Cut Thickness
mm
20
20
25
25
32
32
Cut Thickness
mm
3200
6000
2500
3200
2500
3200
Shear Angle
Degree
2°30'
2°30'
3°
3°
3°30'
3°30'
SPM
min-1
≥ 5
≥ 4
≥ 5
≥ 5
≥ 4
≥ 4
Back Gauge Adjustment
mm
1000
1000
1000
1000
1000
1000
Throat Depth
mm
320
150
325
325
350
350
Main Motor
kW
30
55
37
37
45
45
Net Weight
kg
22000
51000
20000
27000
32500
42100
Outline Size (L×W×H)
mm
4190×2400
×2300
7100×3500
×3050
3450×2650
×2800
4130×3100
×2800
3550×3100
×2800
4335×3300
×3280
Basic Info
---
Model NO.: MS7-16x4000
Cutting Length: 4000mm
Electrical Components: Schneider Electrical From French
Main Motor: Siemens From Germany Brand
Backgauge Drive: Schneider Electrical From French
Foot Switch: Kacon From South Korea
Hydraulic System: Bosch-Rexroth Form Germany
Ball Screw/ Polished Rod: Hiwin From Taiwan Brand
Product Name: Shearing Machine
Trademark: Accurl
Transport Package: Wooden Cases for Shearing Machine
Specification: 4820x2490x2460mm
Origin: China
HS Code: 84623990
hydraulic plate shearing machine
,
hydraulic swing beam shear
,
hydraulic swing beam shearing machine
,
plate shearing machine