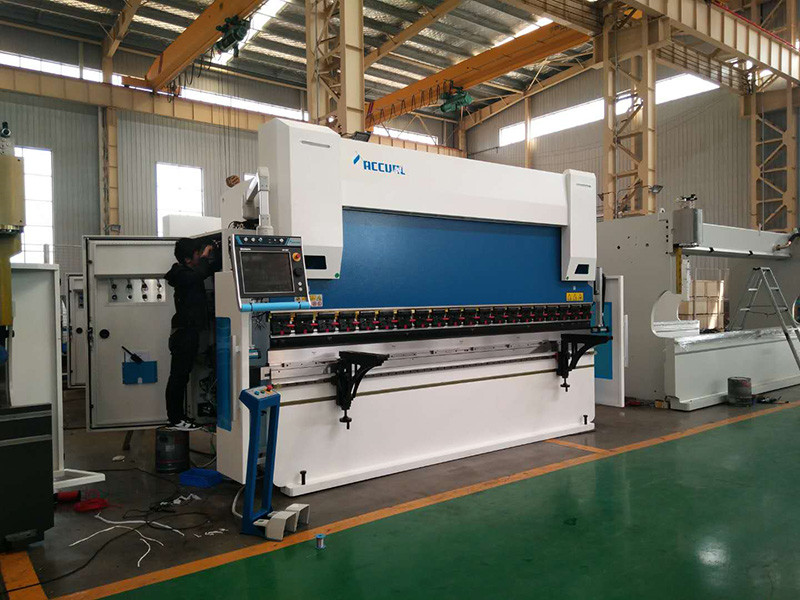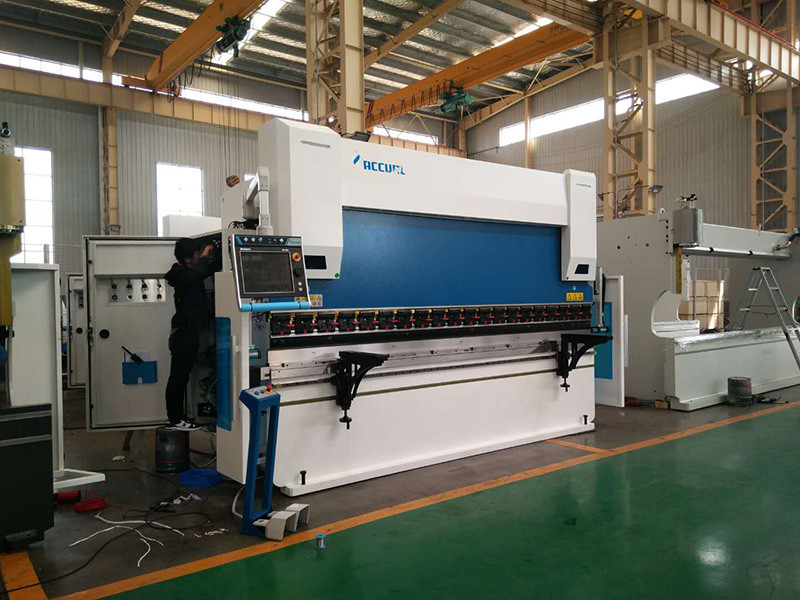 CNC Hydraulic Press Brake 6000mm 600TN for Sale Sheet Metal Bending 600 ton Press Brake Machine
Product Application
---
The ACCURL® press brake, engineered with great care for details, is a high quality machine tool. The studies made on the framework flections have allowed us to design a product that reacts in the most appropriate and responsive way to the mechanical solicitations, therefore guaranteeing a stable structure, thus a higher precision in bending. This feature is even enhanced by a system of automatic crowning. Worth mentioning is also the possibility to add options and upgrades on the configuration, at later stage.
Product Performance
---
Productivity
● Automatic calculation of angle, force and axis positioning.
● User-friendly control
Versatility
● Configuration on demand
Precision
● Structural compensation system
● Servo-motorized axis
● Proporcional hydraulics
Standard Configuration
---
1. Frame produced in China by ACCURL accurately
dimensioned through FEA.
2. CNC DELEM DA66T with colour graphics
3. 4+1-axis CNC:
• Y1, Y2 precision ram positioning.
• X, R precision servo-driven back gauge.
• CNC motorized crowning system
• Manually adjustable Z1, Z2-axis.
4. GIVI optical scales
5. Lazer Safe dual beam photocells
6. Hydraulic System from Germany Hoerbiger
7. High Siemens efficiency motor– class IE3
8. Stand-By and inverter motor drive for energy-saving
drive.
9. Double guided ram
10. Electrical cabinet with Telemecanique-Schneider,
Esautomotion, ABB components
11. Tool kit: 4 V die (V=16-22-35-50) series of 835mm
punches with a fractioned one
12. DSP-AP laser safety: lowered speed change point
and auto-blanking for box bending
Product features
---
1. Totally EU streamlined design,Monoblock by welding robots & aparatus and stress relief process by Annealing treatment.
2. All ACCURL machines are designed using SOLID WORKS 3D programming and made with enhanced ST44-1 quality steel with the latest technology.
3. The Accurl 4 axis MB8 CNC Press Brakes are fitted with the new Delem DA66T 3D & 2D graphical touch screen Multi axis controller which is a very user friendly and intuitive programming unit.
4. High quality and repetitive bending is obtained by using synchronized cylinders and valves.
5. Automatic axis referencing and calibrating when machine is turned on.
6. Rigid upper beam runs on 8-point bearings with bending precision of 0.01 mm
7. Well-known top and bottom tool brands are long lasting stiffened and provide precise bending.Silent high pressure pump.
Optional Equipment
---
● DELEM CYBELEC ModEva 15T CNC System
● DELEM DA69 CNC System
● Backgauge X-R or X-R-Z1/Z2
● DSP Optical Safety Guard
● 1000mm Backgauge Stroke
Press Brakes
---
• Graphic color CNC
• Laser beam safety photocells
• Silent and reliable internal gear pump
• Hydraulic system regulated by proportional valves
• Combination of brushless drive and motor with "can open" digital technology, high precision backgauge which permits permits fast movements of the axes.
• High precision optical lines
• Adjustable clampings
• Hardened, grinded tools and clamps for quick tools adjustment
• Complete backgauge fingers on double linear guide with LEDs
• Stainless steel front supports adjustable in height
• Automatic hydraulic crowning
• Electrical panel with high quality components
• Start&Stop system
Specifications for CNC press Brake
---
TECHNICAL FEATURES
1
Type
CNC hydraulic press brake
2
CNC Control Axis
Y1-Y2-X-R-axis & Crowning
3
Bending force
600 Ton
4
Bending length
6000 mm
5
Distance between columns
5050 mm
6
Gap
400 mm
7
Daylight Opening
650 mm
8
Beam
320 mm
9
Table height
990 mm
10
Table Width
300 mm
11
Fast Speed
80 mm/sec
12
Bending Speed
0~8 mm/sec
13
Return Speed
80 mm/sec
14
Back Gauge Stroke
1000 mm
14
Motor Power
40 KW
15
Overall dimensions
6500×2700×5000 mm
16
Machine weight
65000 kg
17
Option 1
DELEM DA52S CNC SYSTEM
Option 2
DELEM DA58T CNC SYSTEM
Option 3
Additional axis: R (back gauge up and down)
big press brake
,
press brake machine
,
sheet metal bending machine
,
sheet metal press brake