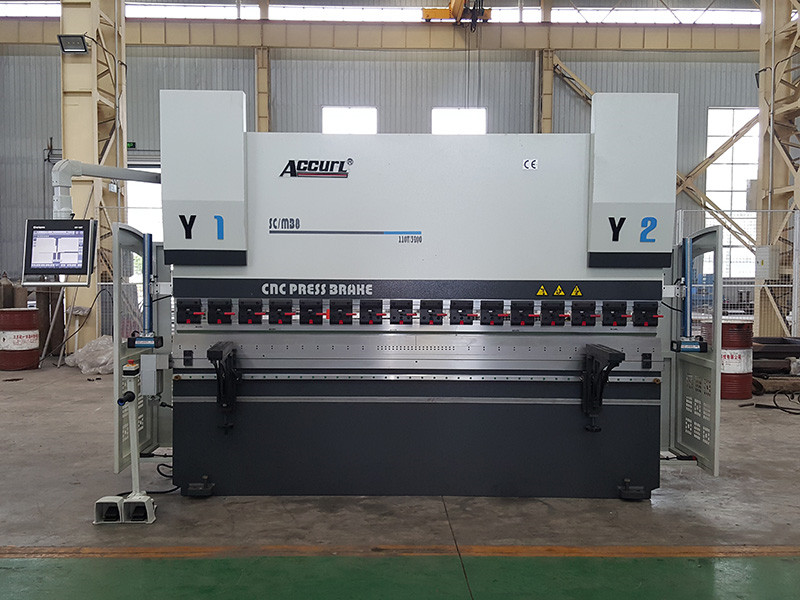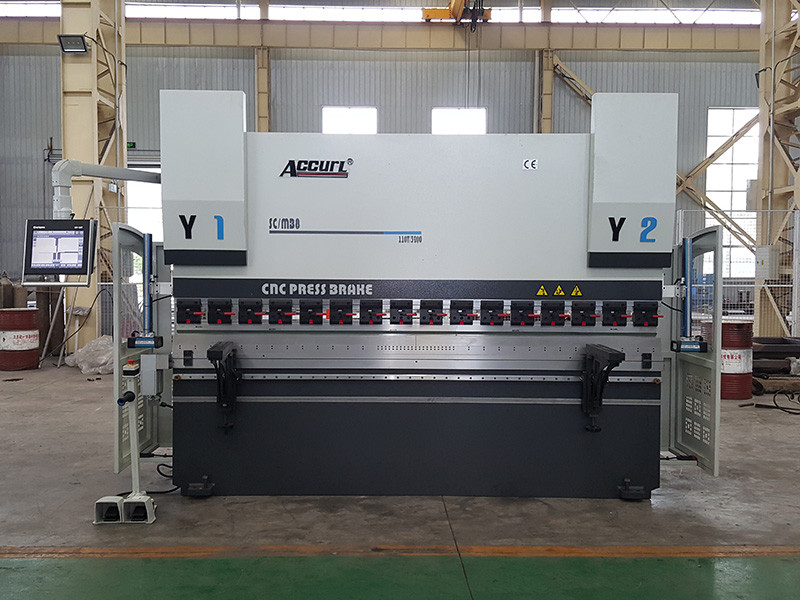 Accurl Brand 3 axis CNC Press Brake 63 ton 1500mm Delem DA52S with Y1 Y2 X axis
Product Application
---
ACCURL® SMART-FAB B Series CNC Press Brakes are perfect for forming small parts with low operating costs and with syncro CNC three axis control capability they perform just like our bigger Press Brakes.
Stronger, faster and deeper bends;
ACCURL® SMART-FAB Series Press Brake allow you to have more production capacity and prevent time loss on production.
Product Performance
---
Productivity
● Automatic calculation of angle, force and axis positioning.
● User-friendly control
Versatility
● Configuration on demand
Precision
● Structural compensation system
● Servo-motorized axis
● Proporcional hydraulics
Standard Equipment
---
● Height adjustable and movable sliding front support arms.
● DELEM DA52s CNC controller with PC-Profile-T software.
● Promecam easy clamping system.
● 410 mm throat depth.
● 3 plus 1 axis CNC:
-Y1, Y2 precision ram positioning.
-X precision servo-driven back gauge.
-Manually adjustable R, Z1, Z2-axis.
-CNC motorized wave crowning.
● 2 back gauge fingers
● Covers for cylinders and top beam
● Top and bottom tools are surface hardened by special treatment.
● CNC controlled strong X=800 mm back gauge
● Foot pedal is produced according to CE standards and suitable for single and multiple bends.
● 2 photocells are placed facing each other for rear guards.
● Preadjusted electrical requirements based on customer's geographical area.
● Electrical panel with cooling system designed to meet CE standards & composed of automation and electrical equipment with SIEMENS branding.
Product Features
---
● Chrome coated cylinders are machined with 0,001 mm precision and pistons are specially hardened.
● Original clamps are user friendly and machined with high precision.
● Front support arms are slideable along machine length and easy to adjust.
● Compact and well-known brand Bosch-Rexroth hydraulics are produced according to CE standards.
● Two photocells on sides for rear guard.
● Fast tool tightening.
● Optic linear scales are sensitive up to ± 0,01 mm.
● Synchronized working cylinders will give you the best bending result with its perfect repeatability ratio.
● 2 axis ultra strong backgauge system (X=800 mm and R), with ± 0,01 mm. repeatability, moves along rails and ball screw, bending length controlled ●by CNC controller, foldable back gauge fingers for reverse bending applications.
● Multifunctional and highly programmable, DELEM DA52S CNC controller.
● SIEMENS electrical system.
● Automatic axis referencing when machine is turned on.
● Side guard is standard meeting CE regulations.
Optional Equipment
---
● DELEM DA58T CNC System
● DELEM DA66T CNC System
● Backgauge X-R or X-R-Z1/Z2
● DSP Optical Safety Guard
● 1000ram backgauge stroke
Press Brakes
---
● Graphic color CNC
● Laser beam safety photocells
● Silent and reliable internal gear pump
● Hydraulic system regulated by proportional valves
● Combination of brushless drive and motor with "can open" digital technology, high precision backgauge which permits permits fast movements of the axes.
● High precision optical lines
● Adjustable clampings
● Hardened, grinded tools and clamps for quick tools adjustment
● Complete backgauge fingers on double linear guide with LEDs
● Stainless steel front supports adjustable in height
● Automatic hydraulic crowning
● Electrical panel with high quality components
● Start&Stop system
Specifications for CNC press Brake
---
TECHNICAL FEATURES
1
Type
CNC press brake
2
CNC Control Axis
Y1-Y2-X-axis & Crowning
3
Bending force
63 Ton
4
Bending length
1500 mm
5
Distance between columns
1100 mm
6
Gap
370 mm
7
Daylight Opening
350 mm
8
Beam
200 mm
9
Table height
880 mm
10
Table Width
150 mm
11
Fast Speed
200 mm/sec
12
Bending Speed
0~10 mm/sec
13
Return Speed
160 mm/sec
14
Back Gauge Stroke
750 mm
15
Motor Power
5.5 KW
16
Overall dimensions
1825×1650×2600 mm
17
Machine weight
4600 kg
18
Option 1
DELEM DA58T CNC SYSTEM
Option 2
DELEM DA66T CNC SYSTEM
Option 3
Additional axis: R (back gauge up and down)
150 ton press brake
,
50 ton press brake
,
big press brake
,
press brake machine
,
small press brake machine