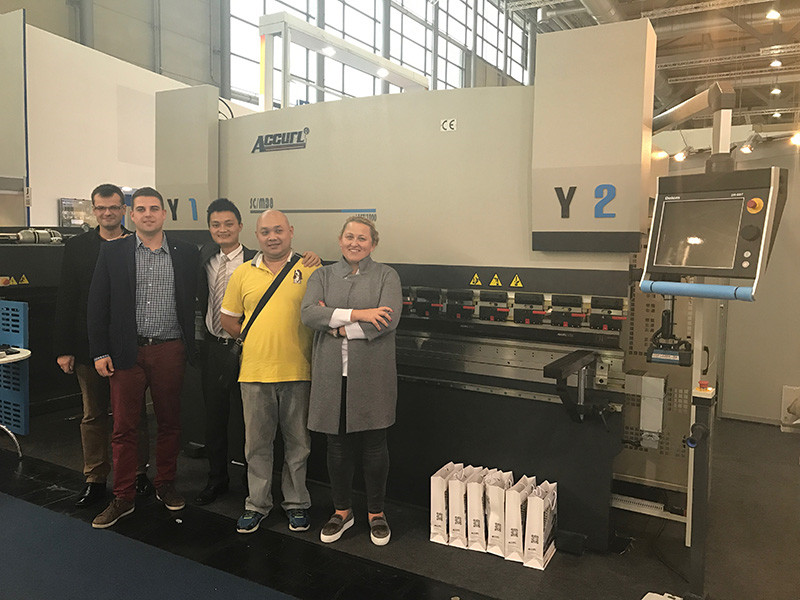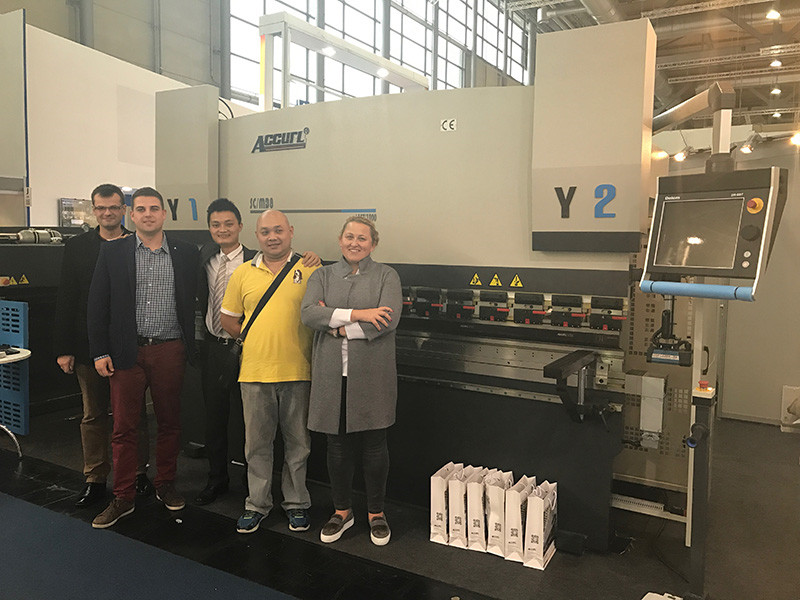 Product Description
---
A press brake is a machine tool for bending sheet and plate material, most commonly sheet metal. It forms predetermined bends by clamping the workpiece between a matching punch and die.
A brake can be described by basic parameters, such as the force or tonnage and the working length.Additional parameters include the stroke length, the distance between the frame uprights or side housings, distance to the back gauge, and work height. The upper beam usually operates at a speed ranging from 1 to 15 mm/s.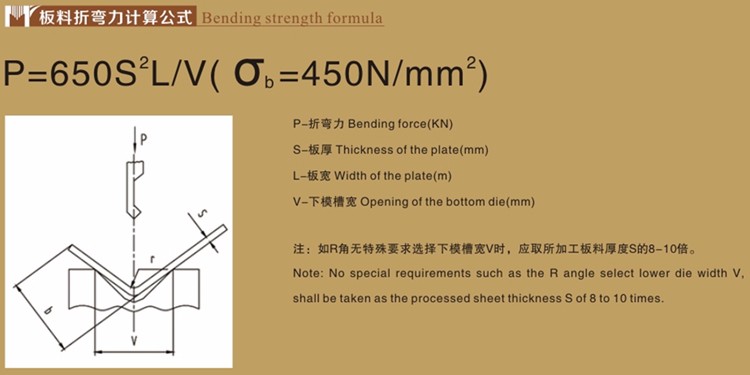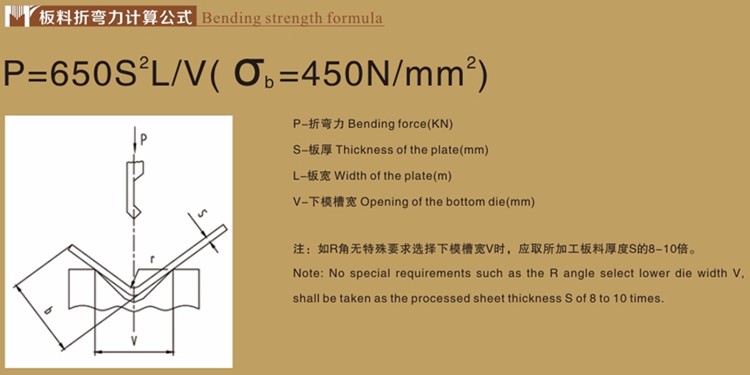 Production description
---
Special numeric-control system is fitted with mainframe of the bending machine; Multi-work step programming functions is able to achieve an automatic operation an continuous positioning of multi-step gliding block;
The machine is provided with bend counting function.for a real-time display of processing quality and power-failure memory of positions of stopper and block .as well as procedure and parameters.
Imported ball bearing lead screw and linear guide rail stopper,for processing precision of machine to be higher
The hydraulic or mechanical deflection compensation ,available in the table on the work-piece precision uniform,hydraulic deflection compensation on by a group of installation in the next table oil cylinder composition ,can make workbench relative motion,formation and convex ideal curve,ensure that stress and slide block after the relative position relation unchanged. By numerical control system of compensation according to the thickness,mould and material properties to be automatic calculated and determined.
HOW TO CHOOSE CONTROL SYSTEM OR HOW MANY AXIS YOU SHOULD HAVE ?
---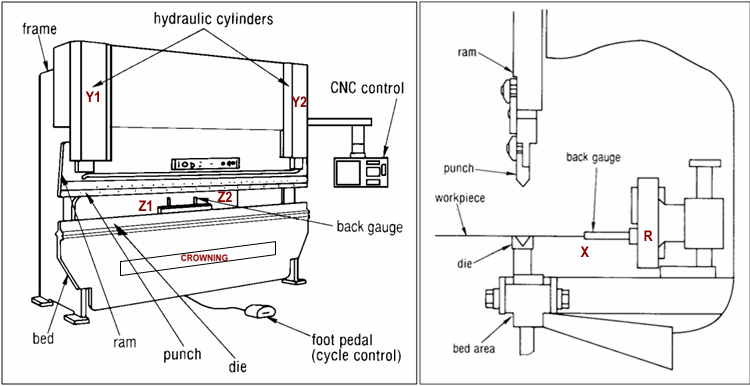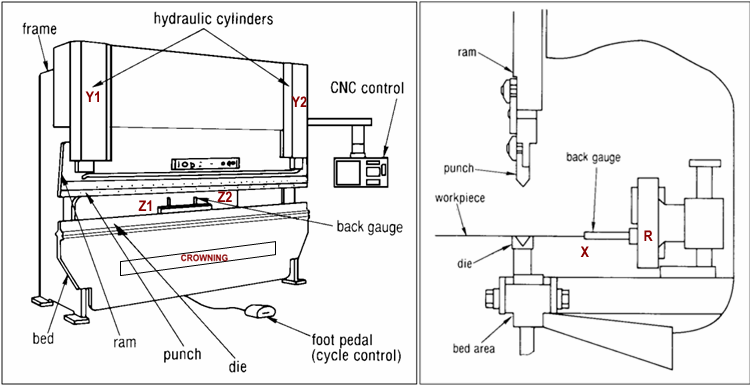 Once the customer determines the material that they will be bending, the next step in picking the right brake is to look at the number of axes they will want to control (with or without CNC), from the Y-axis (usually available as separate Y1 and Y2 axes) to things like crowning and even sheet following systems, each of which can be considered an axis.
Most customers will probably want to measure their flange length as they bend, so they will want an X-axis back gauge in order to do that. When the inserted material touches the back gauge they know they are at their correct point to bend.
The customer also needs to determine if they are going to be making multiple bends, such as putting a 45° bend into a piece of material and then making another bend further into that same piece. If that's the case, they will need an R-axis in order to raise the back gauge up and down. They would also need to decide if they want a manual R-axis or a powered R-axis.
Next they need to consider whether or not they will be running small parts on their press brake. For example, if the customer is going to be alternating between 500mm and 3000mm wide pieces, they may want powered Z1 and Z2 fingers so they won't have to keep manually adjusting the width of the fingers for each different bend.
The customer also needs to see if they will be bending on an angle — for example, if they are bending a flange that is 900mm deep on one side and 600mm on the other side. If that is the case, then they will want a Z-Prime axis (also known as a Delta X-axis) so that they can adjust their press brake on an angle with one fixed finger and a second one that can go plus or minus 300mm. They may also want to consider separate Z1 and Z2 axes to accomplish the same thing.
Crowning must also be considered. Will the customer be bending anything heavy enough that they will need to worry about crown? Most shops will at least occasionally have jobs big enough that crowning will be an issue, so does the customer want to be able to adjust crowning on their bed to compensate for it? If so, do they want manual crowning or CNC crowning? With manual crowning you have a handle on the side of your brake that you adjust by hand and you have to know per job what the crown will be for that material, that width, that length and that thickness. With CNC crowning the control figures all that out for you and adjusts the crown on your press brake accordingly.
Different CNC controller
---


Quick Details
---
Condition: New
Place of Origin: Anhui, China (Mainland)
Brand Name: ACCURL
Machine Type: Beading Machine
Raw Material: Steel Bar
Material / Metal Processed: stainless steel;carbon steel;aluminium
Power: Hydraulic
Automation: Automatic
Extra Services: End Forming
Certification:CE
After-sales Service Provided: No overseas service provided
Name: 500 ton cnc hydraulic press brake
Type: Hydraulic Bending Tools
Usage: Sheet Folding
Application: Stainless Steel Strip Bending
Model:WC67K-500T/3200
Material: Stainess Steel
Voltage:380V/220V
Color: as customers' requirement
Motor: Germany Siemens Brand
Warranty: 1year
big press brake
,
mini press brake
,
small press brake machine