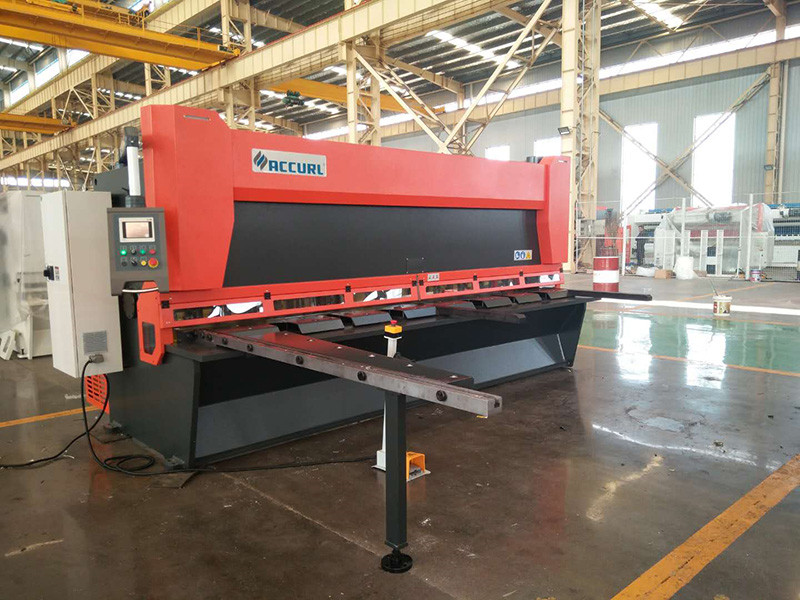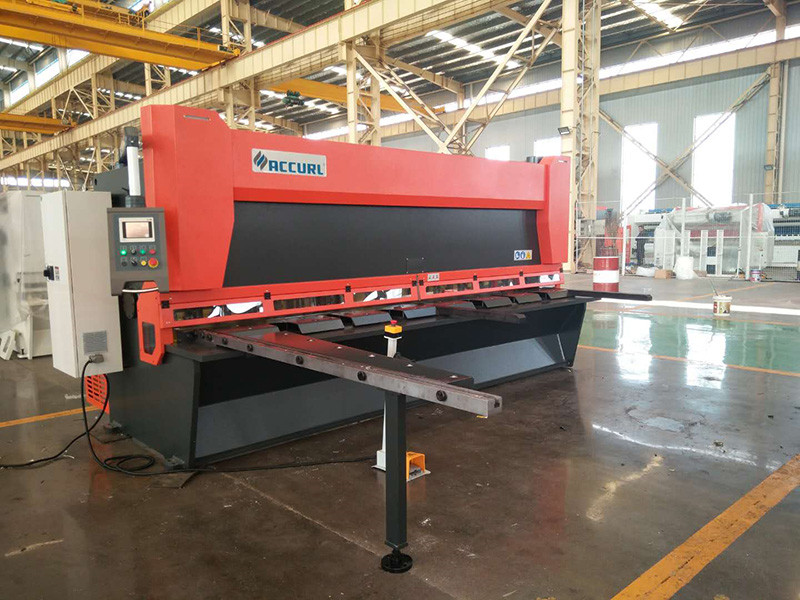 1.Standard Facilities:
---
1. ESTUN E21 NC control + Frequency inverter control back gauge and shearing times
2. Front support arms with stopper and measure scale
3. Main electric components are from SIEMENS or SCHNEIDER
4. Hydraulic seals are from NOK, Japan
5. Hydraulic valves are from OMEGA
6. Hydraulic pump is from SUNNY brand (USA venture in China )
6. Main motor is from SIEMENS brand
7. Steel-welded construction, vibration to eliminate stress, with high strength and good rigidity
8. Hydraulic top-drive, steadiness and reliability
9. With adopts quick manual adjust device, cutting stroke can adjust to be suitable shearing short sheet
10. With motor-driven back gauge and counter device
11. CE standard back-safety curtain
2. Estun E21 NC Press Brake Control system:
---
1. Monochrome LCD Box Panel.
2. Integral factor programmable freely
3. Automatic positioning control
5.Internal time relay
6.Ram stroke counter
3. Our Services
---
1: Response in time after getting customer's claim
1: Provide solution in 1 day
2: Usually solve problem within 2 days
2. For big machine, Installation Service is available as per customer's requirement
4. Training Service
---
Our technician is available to your factory and offer training of how to use our machines. As well, you may send your technician to our company to learn how to operate machines.
5. Quality Guarantee
---
We guarantee the quality of machine (e.g. processing speed and working performance is the same as the data of samples making). We sign the agreement with detailed technical data.
We arrange final test before shipment. We run the machine for a few days, and then use customer's materials for test. After making sure machine is the best performance, then make shipments.
6. Main functions:
---
1. The machine frame is welded construction with steel plate, and stress is eliminated by vibration. with high strength, stable performance, easy operation and convenient maintenance.
2. As the cutting beam of machine has been designed in inner-inclined structure, it is easy for plates to fall down and the accuracy of products can also be guaranteed.
3. With the help of hydraulic drive, swing beam, return of knife beam is smooth and prompt by accumulator ( Nitrogen cylinder ).
4. Stepless adjusting is available for the stroke of knife beam for different length plate shearing.
5. The position of low blade is adjustable, thus ensuring the equilibrium of the gap between blades after regrinding.
6. It is easy and quick to adjust the gap between blades. The value of the gap is indicated on a dial.
7. Motorized adjusting and manual adjusting for the back gauge.
| | | | | | | | | |
| --- | --- | --- | --- | --- | --- | --- | --- | --- |
| Parameter | Shearing Thickness(mm) | Shearing Width(mm) | Shearing Angle | Number of stroke | Backgauge (mm) | Motor (kw) | Net W. (kg) | Overall Dimensions(mm) |
| 4*2000 | 4 | 2000 | 1° 30' | | 600 | 4 | 3500 | 2550*1430*1560 |
| 4*2500 | 4 | 2500 | 1° 30' | | 600 | 4 | 4000 | 3100*1430*1560 |
| 4*3200 | 4 | 3200 | 1° 30' | | 600 | 5.5 | 5300 | 3840*1680*1670 |
| 6*2500 | 6 | 2500 | 1° 30' | 18 | 20-600 | 7.5 | 6000 | 3040*1616*1620 |
| 6*3200 | 6 | 3200 | 1° 30' | 14 | 20-600 | 7.5 | 7200 | 3840*1610*1620 |
| 6*4000 | 6 | 4000 | 1° 30' | 10 | 20-600 | 7.5 | 10000 | 4640*1705*1700 |
| 6*6000 | 6 | 6000 | 1° 14' | 10 | 600 | 18.5 | 17000 | 6600*1950*1980 |
| 8*2500 | 8 | 2500 | 1° 30' | 14 | 20-600 | 11 | 6.500 | 3240*1610*1620 |
| 8*3200 | 8 | 3200 | 1° 30' | 10 | 20-600 | 11 | 7.800 | 4010*1610*1620 |
| 8*4000 | 8 | 4000 | 1° 30' | 8 | 20-600 | 11 | 11000 | 4680*1705*1700 |
| 8*6000 | 8 | 6000 | 1° 30' | 8 | 20-800 | 18.5 | 19000 | 6880*2210*2890 |
| 10*2500 | 10 | 2500 | 1° 48' | 12 | 20-600 | 15 | 8000 | 3350*2050*1950 |
| 10*3200 | 10 | 3200 | 1° 48' | 10 | 20-600 | 15 | 10000 | 4050*2050*1950 |
| 10*4000 | 10 | 4000 | 1° 30' | 8 | 10-800 | 18.5 | 12500 | 4850*2300*2200 |
| 10*6000 | 10 | 6000 | 1° 30' | 8 | 20-1000 | 30 | 20000 | 7020*2580*3280 |
| 12*2500 | 12 | 2500 | 1° 30' | 12 | 10-800 | 18.5 | 11000 | 3320*2050*2230 |
| 12*3200 | 12 | 3200 | 1° 30' | 10 | 10-800 | 18.5 | 12500 | 4020*2050*2230 |
| 12*4000 | 12 | 4000 | 2° | 8 | 10-800 | 22 | 15000 | 4850*2400*2200 |
| 12*6000 | 12 | 6000 | 1° 30' | 6 | 20-1000 | 37 | 23000 | 7020*2680*3380 |
| 12*8000 | 12 | 8000 | 1° 30' | 4 | 20-1000 | 45 | 33000 | 9020*2680*3380 |
| 16*2500 | 16 | 2500 | 2° 30' | 8 | 10-800 | 18.5 | 15000 | 4850*2400*2200 |
| 16*3200 | 16 | 3200 | 2 ° 30' | 7 | 10- 800 | 22 | 18000 | 4100*2060*2010 |
| 16*4000 | 16 | 4000 | 2° | 6 | 10-800 | 30 | 23000 | 4900*2400*2250 |
| 20*2500 | 20 | 2500 | 2° | 6 | 10-800 | 37 | 16000 | 3440*2088*2570 |
| 20*3200 | 20 | 3200 | 2° | 5 | 10-800 | 37 | 23000 | 4100*2350*2710 |
| 20*4000 | 20 | 4000 | 2° 30' | 4 | 10-800 | 37 | 30000 | 4920*2400*2790 |
| 25*2500 | 25 | 2500 | 3° | 5 | 40-1000 | 45 | 19000 | 3480*2410*2690 |
| 25*3200 | 25 | 3200 | 3° | 5 | 40-1000 | 45 | 26000 | 4180*2410*2690 |
| 25*4000 | 25 | 4000 | 3° | 5 | 40-1000 | 45 | 33000 | 4985*2410*2690 |
hydraulic swing beam shear
,
hydraulic swing beam shearing machine