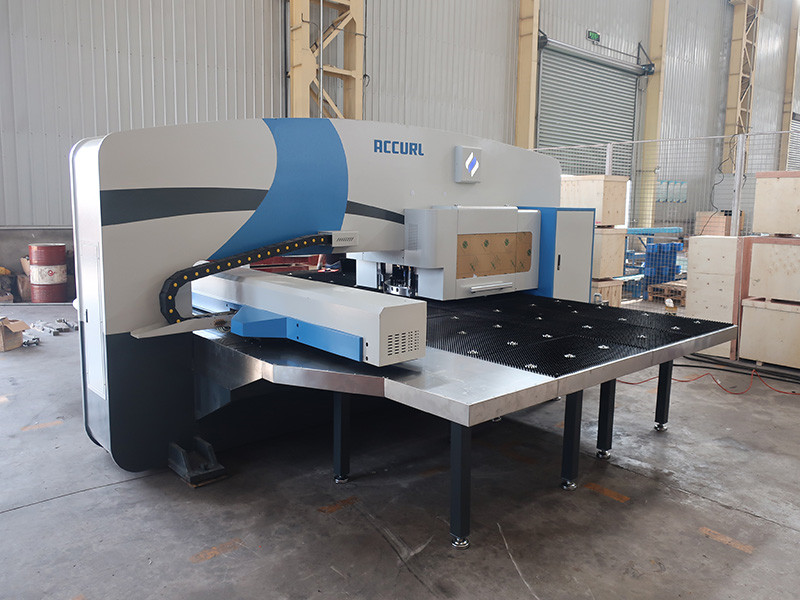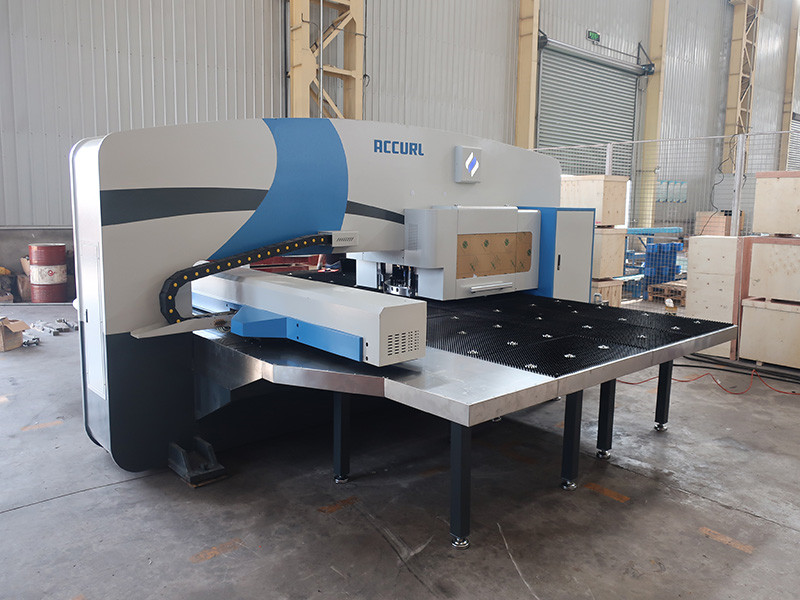 ACCURL Servo CNC Turret Punch Press MAX-SF-30 ton with FANUC Series Oi-PO CNC Control System
---
MAX T Series for
Complex Multi-Tools Auto Index Technology
HIGH PERFORMANCE
With Accurl 30 or 50 tons high speed servo hydraulic punching head, sheet dimensions 2500 x 1300 mm and rotation axis for all tools, the MAX-SF is the perfect CNC turret punching machine. The large fully-brushed sheet support tables and the standard repositioning cylinders, allow for standard sheet sizes to be processed easily.
FLEXIBILITY IN MULTI-TOOLS
---
ACCURL®MAX-SF Series CNC Punch Press Machine is the newly developed Multi Index Tools Turret Punch Press equipped with advanced Servo Hydraulic System, introduced by Tailift's professional R&D and production teams who have been dedicated to machineries for decades. Accurl MAX SF Series CNC Punching machines provides the fastest, flexible and reliable punch press satisfying your expectation of fast and precise sheet metal works.
Advanced Servo Hydraulic System
---
●Advanced German made Schneider Hydraulic Servo system with pressure valve to precisely control the speed, volume and pressure of oil flow.
●To control the RAM stroke distance on both ends, hence the height and depth of each punch becomes programmable with 0.1mm accuracy.
●Uniquely designed Machine structure ensures less preventive maintenance.
Complex Multi-Tools Auto Index Technology
●Synchronized dual servo motors for controlling the auto index functions.
●2 D Auto Index Stations for Multi Tools, either 3 B or 8 A..
●Capable of indexing each individual tool within the 3B and 8A Multi Tool set.
●24 various size stations including 4 Auto Index stations Multi Tools.Therefore, a total of 24 to 52 tools can be employed.
●Capable of running wheel, marking, grooving and forming Tooling.
Standard Equipments
---
●Accurl Direct Drive servo punch system
●Fanuc CNC and high precision absolute encoder, dynamic, brushless alfa series servo motors
●3 automatic repositioning clamps and loading switches.
●FANUC Series Oi-PO CNC Control System
●Aluminum workholder
●Tool lubricating system (Airblow).
●Free standing control panel.
●Control with foot pedal.
●Tools stuck safety system
●1 software (Lantek or RADAN software).
●24 or 42 turret stations
●Digital oil temperature indicator.
●Software for using wheel and forming tools.
●Sheet jumping switches
●Scrap box.
●Chain protection around the machine (safety system).
Optional Equipments
---
●Notching and forming tools for various dimensions and forms.
●Light barrier (for CE standard machines).
●Additional sheet holding clamps.
●Multi tools of 3,6,8 stations.
●Adaptors for various stations (B, C, D).
●Special coated tools for notching stainless materials (TIN, TICN, TICN Plus, MOVIC).
●Work chute.
●Stainless steel table with ball bearing support.
Technical Parameters of the Hydraulic Driven CNC Turret Punch Press
---
Item
Unit
MAX-SF-30T
Punching Capacity
Ton
30
X Traverse Length
mm
2490±10
Y Traverse Length
mm
1250±10
Max Sheet Size
mm
1250x4980
Max Sheet Thickness
mm
6.35
Max Mass of Material
kg
110
X Axis Traverse Speed
m/min
80
Y Axis Traverse Speed
m/min
70
Max Traverse Speed
m/min
105
Punching Speed at 25mm pitch
hits/min.
360
Nibbling Speed (stroke length 4mm, pitch 1mm)
hits/min.
650
Tool Type
Thick turret
Max Punching Diameter
mm
88.9
Number of Tool Stations
34
Numer of Auto Index Stations
pcs(type)
2B
Turret Rotating Speed
rpm
33
Auto Index Rotating Speed
rpm
100
Ram Stroke Distance
mm
0-31
Working Table
Brush+Supporting Ball Set
Number of Sheet Clamps
pcs
3
Power Supply
KVA
24
Air Supply
NL/min
250
Air Pressure
bar
6
Size of Control Cabinet
mm
1200 × 600 × 1900
Number of Controllable Axis
Axis
4
RAM Memory
KB
512
Serial Interface
RS232 / RJ45 / PCMCIA
Punching Precision
mm
±0.1
Machine Dimension (L × W × H)
mm
4687 × 5102 × 2385
Net Weight (approx.)
kgf
13000
Production name
cnc punch press
●Specifications are subjects to change without prior notice.
●Acceleration / deceleration rate of X / Y-axis are dependent on weight of materials.
●Punch speed depends on processing conditions, stroke length, acceleration / deceleration of axes speeds.