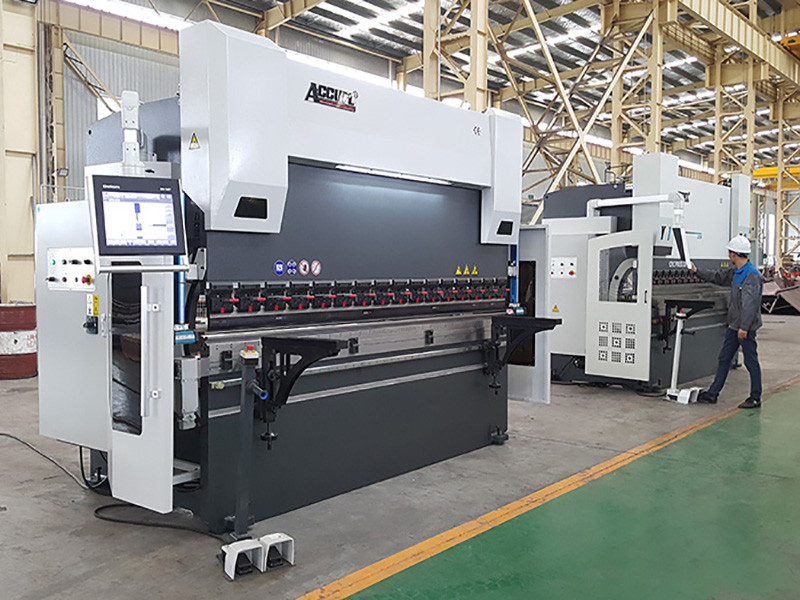 Product Description
---
300tx 4000 3-Oil-Cylinders Hydraulic Press Brake with CNC Controller
CNC Synchro Press Brake WE67Y 300T/4000 :
Hydraulic system:
-A complete electrolyte servo synchro CNC (Computer Numerical Control) controlled press brake.
-Adopt Bosch electrolyte servo system (from Germany)
Mechanical system:
- Two light rulers are installed at the two ends of the slide, making the slide movement be parallel to the working table
- Adopt the working table compensation structure.
- The CNC servo motor of the back gauge gives a high positioning accuracy.
CNC system:
- The DA65W computer imported from Holand Delem Co.
- Automatically calculate the working time and quantities of press brake actions.
- For single step operation, the user only needs to input the relevant data into the system, and then the system will check out the pressure needed for press brake and get every thing in order.
- When making several steps press brake actions on the parts, the user just needs to input the intended dimensions into the system, and then the system can make continuous press brake actions according to the requirements.
- Can store 25 press brake procedures.
- Give alarm signals on incorrect operations
- Automatically control the following datum: Pressure discharge time, pressure keeping time, press brake pressure, press brake angle, the opening height of slide and etc.
Synchro control system:
-Two light rulers (Y1-Y2) have been installed at the two sides of the machine to measure the exact distances.
-The position data will be delivered to the CNC system and then it can check out the servo valve control signal (S2-S2).
Transmission system:
- High-precision ball screw and linear guide-way
- PANASONIC HINAS A4 series; AC servo motor and drive;
Compensation System:
-WILA deflection compensation;
-Automatic worktable compensation for wear and tear of the bed
The deviation resistance ability of the machine tool:
-The electrolyte servo system of this forging machine is an inner closing ring control system, which can check out the synchro discrepancies of the slide by the movement of the light ruler.
Model
(WC67Y)
Nominal Pressure (kN)
Length of table (mm)
Distance Between Housing (mm)
Throat Depth (mm)
Stroke (mm)
Open Hight (mm)
Main Motor (kW)
Dimensions
(L x W x H) (mm)
weight (T)
40/2000
400
2000
1600
200
110
335
4
2545x1510x2050
3
40/2500
400
2500
2000
200
110
335
4
2950x1510x2080
3.5
63/2000
630
2000
1600
250
110
350
5.5
2555x1600x2130
3.8
63/2500
630
2500
2000
250
110
350
5.5
2960x1600x2180
4.2
63/3200
630
3200
2600
250
110
350
5.5
3740x1600x2230
5.2
100/2500
1000
2500
2000
350
150
400
7.5
2980x1650x2330
6.3
100/3200
1000
3200
2600
350
150
400
7.5
3740x1650x2355
7
100/4000
1000
4000
3200
350
150
400
7.5
4550x1650x2450
8.8
100/5000
1000
5000
4000
350
150
400
7.5
5100x1500x2650
11.8
125/2500
1250
2500
2000
350
150
410
7.5
3980x1650x2370
7.5
125/3200
1250
3200
2600
350
150
410
7.5
3750x1650x2450
8.2
125/4000
1250
4000
3200
350
150
410
7.5
4550x1650x2470
9
125/5000
1250
5000
4000
350
150
410
7.5
5100x1500x2795
11.5
125/6000
1250
6000
4500
350
150
410
7.5
6100x1500x2895
14
160/2500
1600
2500
2000
350
150
425
11
2980x1715x2410
8.5
160/3200
1600
3200
2550
350
150
425
11
3750x1715x2450
11
160/4000
1600
4000
3200
350
190
450
11
4550x1715x2730
12
160/5000
1600
5000
4000
350
190
450
11
5100x1570x2900
15.5
160/6000
1600
6000
4500
350
190
450
11
6100x1570x3010
19
200/3200
2000
3200
2600
350
240
460
11
3750x1815x2715
13
200/4000
2000
4000
3200
350
240
460
11
4550x1815x2850
14
200/5000
2000
5000
3800
350
240
460
11
5100x1715x3020
18.5
200/6000
2000
6000
4500
350
240
460
11
6100x1715x3120
21
250/3200
2500
3200
2600
400
240
525
11
3750x2010x2850
15.5
250/4000
2500
4000
3200
400
240
525
11
4550x2010x3010
17
250/5000
2500
5000
3800
400
240
525
11
5100x1890x3190
21.5
250/6000
2500
6000
4500
400
240
525
11
6100x1890x3350
28
300/3200
3000
3200
2600
400
250
545
15
3740x2100x3235
19.5
300/4000
3000
4000
3200
400
250
545
15
4340x2100x3300
22
300/5000
3000
5000
3800
400
250
545
15
5100x2100x3430
26
300/6000
3000
6000
4500
400
250
545
15
6100x2100x3490
29
Basic Info
---
Model NO.: We67y 300t/4000
Type: Press Brake
Machine Model: We67y 300t/4000
Normal Pressure: 300tons
Table Size Length: 3000 mm
Main Motor: 22 Kw
Dimension: 4000*2000*3450mm
Machine Weight: 22500 Kgs
Estun Nc System: Estun E21 Nc System
Servo Motor/ Servo Drive: Yaskawa From Japan Brand
CNC Control Axis: Y X Axis Crowning(Electro-Hydraulic Servo)
Electrical Components: Schneider Electrical From French
Trademark: Accurl
Transport Package: Wooden Case
Specification: 4400x2250x3115
Origin: Anhui, China
HS Code: 84622990
150 ton press brake