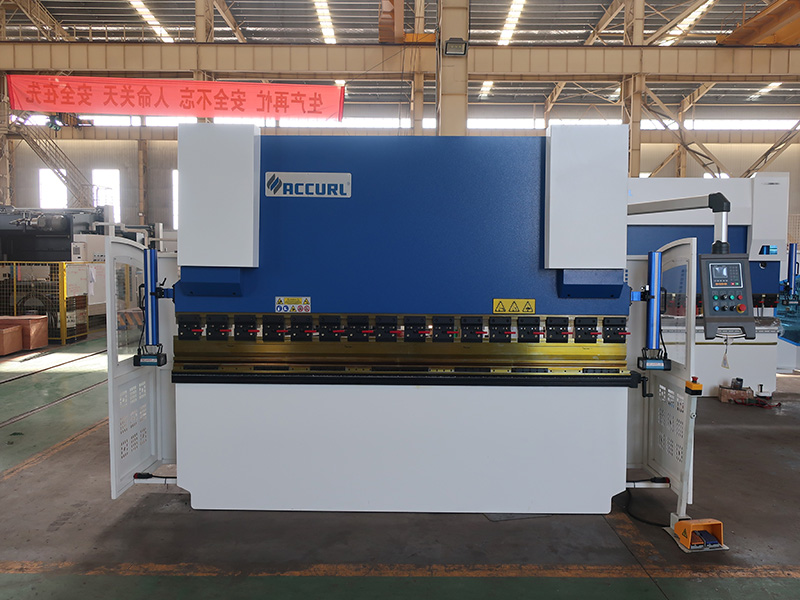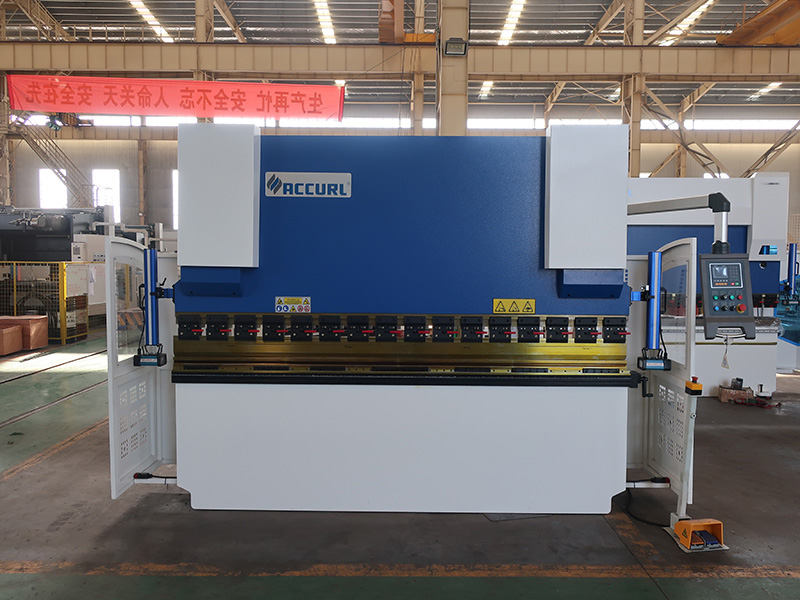 160tons 4000mm nc sheet press brake for sale with Estun E21 NC control for Accurl
---
ACCURL® Easy Bend B Series Hydraulic Press Brake is our most popular model by volume and a true workhorse. Constructed of high quality parts and offering serious reliability, Y-axis Torsion bar syncro technology with high approach, bending and return speeds.
Standard Equipment
---
● Estun E21 Or Germany ELGO P40 NC Control System
● Plate Support Arms
● Germany Bosch-Rexroth Hydraulic
● Germany EMB Tubing connector
● Germany Siemens Main Motor
● Telemecanique/Schneider Electrics
● Hydraulic and Electrical overload protection
● Top and Bottom Tooling ( 86° , R0.6mm)
● DELTA inverter controlled back gauge
● Powered Depth Y-Axis and Back Gauge X-Axis
● HIWIN Ball screws and polished rod with 0,05 mm accuracy
● System Intermediate Upper clamps with Anti Wedges
● Backstop
● Light guards
● Squaring Arm and Front Support Arms
Product Features
---
● Totally European design, streamlined looking,Monoblock,Welded steel frame rigid to deflection moment and high tensile with ST44 A1 material.
● ACCURL Press Brake is Equipped with the Estun user-friendly user interface,the E21 provides all main press brake functionality.
● Automatic tonnage and stroke adjustment for bending angles.Perfect bending results with easy angle input and operation of machine.
● All tubes are connected by tube insertings to avoid oil lost and burst by welding tubes.
● Ball screw and line guide was designed to improve precision.
● E-Z fast wedge clamping was designed to change tools quickly.
● Safe fence and the electric interlocker have been designed for the machine to ensure the operation safety.
Product Application
The ACCURL® NC press brake , engineered with great care for details , is a high quality machine tool . The studies made on the framework flections have allowed us to design a product that reacts in the most appropriate and responsive way to the mechanical solicitations , therefore guaranteeing a stable structure , thus a higher precision in bending. This feature is even enhanced by a system of manual crowning . Worth mentioning is also the possibility to add options and upgrades on the configuration , at later stage .
Machine Parts
● Machine Frame
ACCURL® machines are designed from the ground up by our expert engineers with only one goal: to build the best machines imaginable . By combining our unique machine designs with the highest quality materials available , we have achieved our objective and invented some of the most reliable and durable machines in the world .
● Hybrid System
ACCURL® is introducing the hybrid system at the same price as theconventional system, leading to a series of advantages for the customer:a huge energy saving ( 55% if compared to a traditional machine ) and amassive reduction of the oil quantity needed, thanks to the double tank .
● Hydraulic Cylinder
All seals in cylinder is PARKER from USA,Being able to work under rated load continuously , stable working and high precision .
● Double Guided Ram
The double guided ram ensures the stability and the ram-working table perpendicularity . This allows to keep the high precision during the whole bending phase , even with different tools and intermediates, thus ensuring the centering made during the initial tests in time .
● Ram Positioning System
Main Torsion bar machine limitations:
1) Always for center bending ( No off center )
2) No conic bends – Y1 = Y2
3) Impossible tandem connection
4) Mechanical synchronism on Y1/Y2
● Punch and dies
Full length multi V series of 835mm punches with a fractioned one
● X - Axis Back Gauge
ACCURL® press brake are provided are equipped with a back gauge that automatically adjusts the X (depth) axes to ensure your material isalways positioned accurately, resulting in higher quality finished parts.
X-Axis CNC BackGauge:
1) X precision servo-driven back gauge
2) Manually adjustable R and Z1 , Z2- axis
3) High - Speed with HIWIN linear guides
4) Driven by DELTA Servo Motors and drives
5) Complete Backgauge fingers on double linear guide
6) X – axis speeds up to 800 mm / sec and accuracy to 0.01mm
● Speed Arip System
The speed arip system reduces the time spent changing tools by 8.5 times compared with traditional systems .
● Foot Switch
Foot switch from Germany's Siemens ( Category 4 )
● Safety Light Curtain
Back of the machine safety light curtain
ACCURL® product designs combine accuracy, speed, flexibility, durability, reliability and advanced technology to deliver machines with the highest performance-to-price ratio in the industry.
Produtivity
● Automatic calculation of angle, force and axis positioning
● User-friendly control
Versatility
● Configuration on demand
Precision
● Structural compensation system
● Schneider inverter-motorized axis
● Proporcional hydraulics
Safety
● Machines with directive CE 2006/95 CE
● Safety light curtain
Reliability
ACCURL® has a strict policy for the choice of its components , on the basis of an extensiv experience acquired over decades . All components are certified in accordance with European standards and their main sources are Germany , USA , Holland , Italy and Switzerland . All structural parts are calculated by the finite element method and only high quality steel S275 and S355 JR namely J2 ( + N ) is used
Safety work
ACCURL® machines comply with the strictest EU regulations with referenceto safety . The devices installed guarantee thorough safety of the operatorwithout reducing the pace of work
● The most advanced laser systems
● Safety PLCs able to manage and monitor the action of the proportional valves
● Visible dual beam linked to the upper tool: should it be is interrupted, it blocks the movement of the press brake
● Easy adjustment by means of a grading scale
● Constant monitoring of parameters related to safe
Specifications for NC Press Brake Machine
---
TECHNICAL FEATURES
1
Type
NC sheet press brake for sale
2
Delem CNC System
Estun E21 NC control
3
CNC Control Axis
Y X axis Crowning
4
Bending force
160 Ton
5
Bending length
4000 mm
6
Distance between columns
3140 mm
7
Throat Depth
330 mm
8
Slide Stroke
200 mm
9
Stroke Adjustment
200 mm
10
Max.Shut Height
465 mm
11
SPM
≥6 min-1
12
Main Motor Power
11 KW
13
Machine weight
11160 kg
14
Outline Size
(LxWxH)
4800×2250×2560 mm
15
Option 1
Estun E200 NC control
Option 2
DELEM DA41 CNC control
Detailed Product Description
---
Estun NC System: Estun E21 NC System
Bending Force: 160 Tons
Bending Length: 4000mm
CNC Control Axis: Y X Axis Crowning(Electro-hydraulic Servo)
Electrical Components: Schneider Electrical From French
Motor Power: Siemens From Germany
BackGauge & RAM Drive: Inverter From Schneider Electrical